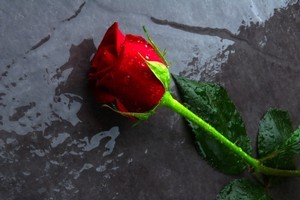 Valentines Day will be wet for many today, with rainclouds forecast for most of of New Zealand and thunderstorms for the Bay of Plenty and Gisborne.
MetService says a trough is bringing unsettled weather to central New Zealand for the next two days, before a ridge of high pressure builds from the south on Thursday.
A severe thunderstorm watch has been issued for the Bay of Plenty and Gisborne today.
MetService said heavy localised rainfalls of 30-50 mm/hr have been falling in far northeast Bay of Plenty northeast of Te Kaha Point and over far northern Gisborne this morning.
The heavy rain and occasional thunderstorms are expected to continue until around midday.
MetService warned the downpour could cause flash flooding, especially about low-lying areas such as streams, rivers or narrow valleys, and also may lead to slips.
There is a high risk of thunderstorms from Manawatu to Taranaki to central Hawkes Bay northwestwards starting in Taranaki this morning and then spreading further east this afternoon.
Elsewhere north of Wellington, there is a moderate risk of thunderstorms which if triggered, will drift out to the east coast in the evening. With all of these thunderstorms, there is the potential for rainfall up to 25mm/hr.
Finally, there is a low risk of thunderstorms over the upper South Island this afternoon and evening.
WeatherWatch.co.nz said a slow moving low has already brought bands of showers to the south of the North Island and top of the South Island. By the end of the day, almost all of New Zealand will have had showers.
- NZ Herald Online staff