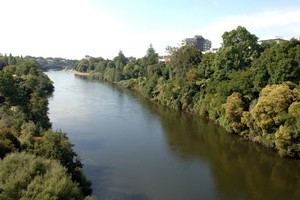 Police say they are committed to finding a 13-year-old boy missing in Waikato River but have scaled down the search.
Zharian Watkins jumped off the 10m high Tainui Bridge in Huntly on Friday afternoon and landed on his friend, who had jumped just before him.
The friend was taken to Waikato Hospital with a gash to his head and an injured shoulder but Zharian failed to resurface.
Police, including the national dive squad, Environment Waikato and members of the local community have been scouring the river for any sign of the teenager since then but Zharian's family were last night losing hope that he might be found alive.
Searchers have looked as far as Ohinewai, some 8km north of Huntly, and the dive squad was today searching water intakes at the Huntly Power Station.
"At this time, a decision has been made to scale down the search and re-evaluate the situation in the coming days,'' police said in a statement today.
"Police and Zharian's family are grateful for the assistance of the local community who turned out in force to assist with the search."
Police remain committed to locating Zharian and any calls relating to this matter are to be directed to the Huntly police.
Zharian's brother Tyrone said he had been warned against jumping from the bridge but Zharian's friend Zaden Callaghan said students from Huntly College would jump off the bridge after school.
"But it depends what the water's like, because sometimes it's shallow, sometimes it's deep. You don't really know and the current can be kind of fast on some days, '' he told National Radio.
Zaden said Zharian's family were devastated. The teenager is one of three brothers and his mother is pregnant with a fourth child. She reportedly went into labour and was taken to hospital when told her son was missing.

- APNZ