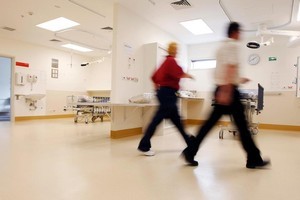 Health care has become a victim of its own success. We are living longer, sophisticated medical investigations and the ability to treat medical and surgical conditions along with patient expectations have resulted in a disproportionate increase in health care costs.
They are now unsustainable. The NHS is currently attempting to reduce its budget by £20 billion and in the USA, reform for spiralling health costs and an inequity of health provision has to date has been unsuccessful. In New Zealand we are no better off, with the percentage growth in health care costs rapidly out stripping the growth in GDP and our ability to pay.
A long-term solution or cure may well be impossible, but palliation or alleviation is possible by increasing the efficiency of our current practices particularly in our public hospitals. The Waitakere Hospital pilot project was established to address these issues of inefficiency.
This project was initiated by senior clinicians and is run by clinicians. The purpose was to establish a unit at Waitakere Hospital which would perform total hip and total knee replacements, and ensure high productivity and reduce the costs of consumables. The contract was a co-operative contract between clinicians and management ensuring common goals of quality, productivity and efficiency. The clinicians work at this unit outside their standard contractual commitments to the Waitemata District Health Board and the concept has now expanded to include thirty clinicians over five surgical sub-specialties.
The responsibility for the clinicians in the contractual arrangement for this new service includes the direct management for the patient during the patient's stay in hospital (as there are no junior staff), and for some weeks after discharge. For this, the clinicians, surgeons and anaesthetists are paid a fee.
To some it appears that this fee is excessive but it is considerably below those fees charged for similar procedures when carried out in a private hospital. As there are no junior staff to manage the patient after hours the total medical fees paid in this pilot are only marginally greater than the medical costs under the traditional care model in the public hospital.
This clinician-lead project has promoted a strong team culture of surgeons, anaesthetists and nurses, the cohorting of similar procedures on the same operating list and a willingness to reduce consumable costs. Direct surgical contact by the nurses with the specialist surgeon or anaesthetist after hours has lead to rapid resolution of post operative queries and an earlier discharge of the patient.
This new contractual model, the results of which, will shortly be published in full, does ensure greater productivity (4 procedures per list compared with 2.3 under current standard practice) and a shorter length of stay (3.3 days to 5.2 for total hips). This has resulted in a significant cost reduction for each procedure (11 per cent lower for hip replacements and 17 per cent lower for knee replacements). Surgery previously outsourced to the private sector has now been brought back into the public hospital, saving $3 million in the 2010/2011 financial year.
The current employment model for senior medical staff in public hospitals provides neither incentives nor drivers to promote productivity nor does it promote a need to reduce consumable costs. Public Hospitals are inefficient and there is an urgent need to address this issue. Senior clinicians are those best placed to improve efficiency but changes in current employment contracts may be required to promote these changes.
As this new service is not dependent on junior staff, concern has correctly been raised as to the effect on teaching and training of new surgeons and anaesthetists. This has, in turn, led to the questioning of our current teaching practices and the need to separate teaching requirements from the junior doctor service commitments to the public hospital.
Future teaching will need to be more focused on the teaching requirements of those in training, something that new models of patient management as described above will need to address.
We cannot afford to continue to accept current systems of patient management, that although they have served us well for many years, are now unaffordable. As quoted recently in the Spectator, and attributed to Ernest Rutherford, "We have no money, so we shall have to think".
* Dr John Cullen is a senior orthopaedic surgeon at Waitemata District Health. He is clinical leader of the Waitakere Hospital pilot, but is not participating in a surgical capacity.