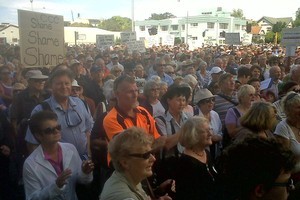 Thousands gathered in Christchurch this afternoon to demand "urgent change to restore democracy" after continued issues with the dysfunctional Christchurch City Council and its controversial chief executive Tony Marryatt.
The protests, in a vacant lot next to the City Council headquarters, were prompted by recent council in-fighting that has impacted on the city's earthquake recovery, and a $68,000 pay rise offered to Mr Marryatt, which he recently rejected amid a barrage of public criticism.
Protest organiser Peter Lynch called on Prime Minister John Key to step in and resolve the situation in Christchurch.
"We are now demanding an urgent change to restore democracy. We must insist on changing what is broken."
About 3000 people showed up to protest and Reverend Mike Coleman said the large turnout was due to ordinary citizens who knew something was wrong with their city.
"We are standing up for democracy because we know we are not seeing democracy operating."
Reverend Coleman said Mayor Bob Parker had done a good job in the initial stages after the February quake.
"But now we need more than a PR person. We need a leader who can reunite a city."
Professional firefighter Kelvin Hampton said it was outrageous that Mr Marryatt had been offered a pay rise greater than his salary when he and his colleagues had risked their lives to save others in the February earthquake.
Christchurch City Councillor Yani Johanson was one of the few councillors who fronted up at the rally and said it was heartwarming to see people who had never protested turn out to have their voices heard.
A group of protestors operating under the banner of "Cantabrians United' presented a letter with their demands to the city council officers at the conclusion of the rally and promised further protest action if their demands were not met.
The protesters want Mr Marryatt - and in some cases the entire council - to be sacked, and for fresh council elections to be held.
One placard amongst the crowd today read "the face of greed just got very ugly".
Another said "enough is enough" and "we deserve better".
Breiarn Blokker, 19, said she had come out to protest because she had lost her job during the earthquakes and was appalled at the pay rise given to Mr Marryatt.
She wanted to see him sacked.