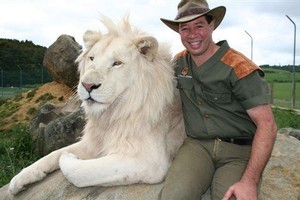 The sister of Lion Man Craig Busch has been arrested at Zion Wildlife Gardens, her mother says.
Patricia Busch told One News her daughter Megan was arrested after she went to the troubled Northland wildlife park today following news the park had been sold by the receivers.
Ms Busch said her daughter had been issued with an instant trespass notice and was arrested on the basis of that.
Patricia and Craig Busch have been in a feud since he was dismissed from the park in 2008.
Receivers PwC Partners Colin McCloy and David Bridgman today confirmed the sale of the business and assets of Zion Wildlife Park to Zion Wildlife Kingdom.
"Following due consideration of the expressions of interest in the assets and operations of the company, an offer has been accepted which the receivers believe provides good value and is the best option to preserve the operation of the park and protect the welfare of the animals,'' Mr McCloy said
"The purchaser is Zion Wildlife Kingdom Ltd. The receivers understand the purchaser has engaged Craig Busch to assist with the operation of the park.
Receivers were on site this morning to advise those at the park of the sale. Staff had been given notice and stood down from work on full pay. The purchaser will staff the park going forward.
Details of the sale were commercially sensitive and the receivers said they were not in a position to comment further on the sale and purchase agreement or the new owners.
Zion Wildlife Kingdom Ltd was now in possession of the keys to the park and the receivership process would be concluded in the near future.
Mr McCloy said the welfare of the wildlife at Zion had always been a priority for the receivers.
"We're pleased to announce the completion of the sale and purchase agreement which enables the wildlife to remain at the park.''
Craig Busch started the park in 2002 and it was taken over by his mother four years later.
The business went into liquidation last year.
Patricia Busch had been ordered to continue caring for the animals while the stoush over who owned them played out in the courts.
Craig Busch had secured an injunction two years ago preventing anyone from claiming ownership of the animals or getting rid of them.
The warring mother and son have faced each other in various court proceedings relating to the park, its debts and assets ownership.
Zion Wildlife Gardens was only last week removed as one of the parties in a trial over that ownership due to be held next month, after PricewaterhouseCoopers applied to the High Court at Auckland for a discontinuation.
Neither Craig Busch nor Patricia Busch were immediately available for comment.
- APNZ