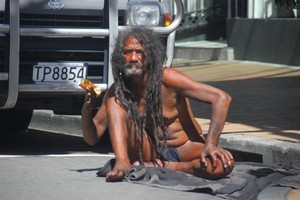 A public service for Ben Hana, known to many simply as Blanket Man, will be held in Wellington tomorrow morning.
Mr Hana, who was often seen on Courtenay Place wearing just a loin cloth, died in hospital on Sunday.
It has not been revealed how he died.
A memorial service for the public figure will be held at Waitangi Park at 10.15am tomorrow, a Wellington City Council spokesman said.
His body will be brought to the park in a hearse and would stay there for about half an hour. A small service will be held and the public will be able to pay their respects.
The council has arranged for a condolence book to be left at Downtown Community Ministry, where Mr Hana was a regular.
A makeshift tribute at Courtenay Place, where hundreds of messages have been written on the walls of the ANZ Bank, will stay in place until Tuesday.
Photos will be taken and given to Mr Hana's family, the spokesman said.
- APNZ