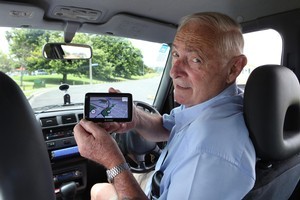 The GPS in Allan Pope's car has taken him the long way round a few times, but he was shocked when it told him to do a u-turn on a busy Auckland motorway.
The Paeroa grandfather was making a pre-Christmas "pressie run" around Auckland when his satellite navigation system, a Navman MY80T, told him to make a u-turn on State Highway 18's Upper Harbour Highway, which opened in August last year.
That stretch of motorway is the same one where an elderly man was seen driving the wrong way, narrowly avoiding oncoming traffic, on New Year's day. Worried motorists called police but the man had left the motorway by the time they arrived.
Pope couldn't believe the instructions he received while travelling from West Auckland towards the North Shore and wants others to be aware of the potential for disaster.
"Fortunately, knowing the area, I ignored the directions," he said. "I wonder if some people are being misdirected by their [navigation] systems.
If I went to Wellington and I was going down some street and it told me to do a u-turn, then I'm going to do that."
He has owned the GPS for three or four months and has not tried to update it.
The Herald on Sunday asked GeoSmart general manager Phil Allen to test an identical unit and a TomTom 2050 Live, from Navman's main commercial rival, on the Upper Harbour Highway.
GeoSmart, owned by the Automobile Association, creates the map database used by Navman, TomTom and the half dozen much smaller satellite navigation brands.
During the test, the Navman gave the same u-turn message on the new stretch of motorway, which is showed as a blank no-man's land, as the unit Pope bought last year. The TomTom had the correct map and did not give the u-turn instruction.
Both units were also tested on the Victoria Park flyover, but neither had been updated to include the new lane configuration.
Allen said that was because the flyover was only included in the December release and it took six to eight weeks to pass those updates on to customers. While GeoSmart supplied new maps to all the brands four times a year, it was up to companies to decide when that information was made available to their customers.
"That's why we highly encourage people to get a subscription [deal with their unit] so they get four [guaranteed] updates a year."
Some brands offered "up to" four updates a year whereas in reality that might be only once a year, he said.
Navman New Zealand spokesman Tony Hewlett told the Herald on Sunday their maps were updated quarterly, and claimed GeoSmart had not provided the company with a new map that included the Upper Harbour Highway until late November. But Allen said Navman had received the update in September.
Told of Allen's comments, Hewlett issued a statement saying the company was "talking to GeoSmart directly about the timing issue" and that the new highway would be included when Navman updated its maps next month.
AA public affairs manager Simon Lambourne urged drivers to use their common sense.
"Navigational devices don't replace drivers."
GPS leading drivers astray
Experts warn that people can become over reliant on using electronic directions rather than using common sense to navigate.
The internet is full of satnav bloopers including a Daily Mail story detailing how Robert Ziegler got his van stuck near the peak of a mountain at Bergun, Switzerland, after his GPS directed him up a "glorified goat track". Ziegler - and his van - had to be lifted out by helicopter.
Last year a convoy of 26 tourists driving through Utah spent a night stranded in their cars after their satnavs played havoc with their scenic tour.
A truck driver bound for Gibraltar, southern Spain, went 2600km off course after his satnav sent him to Gibraltar Point in Lincolnshire, England.
In Shropshire, despite "satnav error" signs, drivers head for a wooden jetty once used for a River Severn ferry, forcing them to reverse up a narrow lane. And a woman was directed by her satnav to head the wrong way up the M5 motorway at 3am.
What do you think?
Email us at letters@hos.co.nz