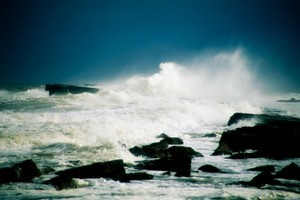 A father drowned last night when he was caught in a rip while swimming with his young son at a surf beach in New Plymouth.
The 45-year-old man's death came one day after a fisherman drowned after being swept off rocks near Waihi Beach on Tuesday night.
The Waitara man was swimming with his 10-year-old son at Fitzroy Beach about 7pm when he was caught in a rip and was swept 80m to 100m off shore.
Two surfers from the New Plymouth Board Riders club grabbed two boards from the Fitzroy club rooms and, with another person, swam out to help the man.
Surf Life Saving New Zealand officer Andrew Cronin said off-duty lifeguards from the nearby East End surf club pulled the man into a rescue boat.
He was taken back to shore, but could not be resuscitated.
The boy was taken to Taranaki Base hospital for checks because he had swallowed sea water.
Police have yet to name the 30-year-old Aucklander who was swept out to sea by a wave in front of three friends while fishing at Homunga Bay, north of Waihi Beach, about 7pm on Tuesday.
He was understood to be wearing a hooded jacket and boots with no lifejacket.
His friends could only watch helplessly as he was carried out to sea in 2m to 3m swells.
A police spokesman said the group had to walk some way to find a cellphone signal to ring for help.
A crew of off-duty Waihi Beach Surf Lifesaving lifeguards were notified and helped police retrieve the body.
Sergeant Dave Litton, of Waihi police, said the tragedy highlighted
the dangers of fishing off rocks.
"With the unpredictable nature of the sea, police advise the use of lifejackets or personal flotation devices while rock fishing.''
The latest deaths take the number of drownings to 11 since Christmas Eve.