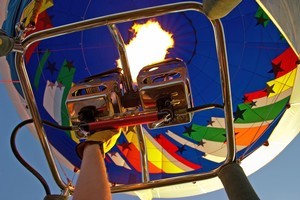 The circumstances of the Carterton hot-air balloon tragedy appear straightforward enough. The craft burst into flames and crashed after hitting a power line, killing all 11 people on board. The focus of the investigation into the accident can, therefore, be its causes and the steps necessary to prevent a recurrence.
Given this is New Zealand's worst aviation tragedy since the 1979 Erebus disaster and that ballooning is a thriving part of the tourism industry, it is important that the right conclusions are reached.
There will always be an inherent risk in any pastime that is so much at the mercy of the wind. Sudden gusts or air pockets are common causes of heavy landings by balloons that result in injuries and also play a part in their vulnerability to power lines. In recent years, almost 40 per cent of accidents have been caused by wire strikes. This highlights, in turn, the way in which the increasing popularity of ballooning, both for sport and in tourism, can find itself at odds with the rapid sprouting of high-voltage power lines occasioned by an increasing demand for electricity.
In such circumstances, safety must be the paramount consideration.
The Civil Aviation Authority appears to have been active in seeking to ensure that is so. Two years ago, it banned one ballooning company after "serious safety concerns" were uncovered in safety audits and spot checks. In November, it introduced new regulations covering certification and operations of hot-air balloons. All commercial adventure aviation businesses must now apply for an operating certificate, while safety standards and practices have been ramped up to a level comparable to small airlines. The investigation into the Carterton tragedy must examine whether that is sufficient given the greater inherent instability of balloons.
Certainly, standards across the Tasman have been found to be inadequate. An Australian Transport Safety Bureau report into the crash-landing of a balloon near Perth last April, in which four people were injured, found the current framework for commercial balloonists "generally did not provide a high level of assurance in regard to the safe conduct of low flying". Improved operational guidelines are on the way.
It could be that Australia trails New Zealand in this matter. But if similar steps are required here, they must be taken in the interests of the important tourism industry. Ballooning may be a little different from other types of adventure tourism, such as jet-boating and bungy-jumping, in that serenity and peacefulness are among its attractions. But it also provides an undoubted adrenalin rush. People going up in a balloon are seeking a thrill. They do not, however, want their lives endangered and will steer away from any activity, or any country, they regard as unsafe.
A number of ballooning accidents around the world have underlined the need for commercial operators to take every care. In 1993, six people were killed in the United States when a balloon hit a power line and plunged to the ground. That death toll was replicated in a similar incident in France eight years later, and in 2002 four tourists were killed when their balloon caught fire in southern China. Research has suggested that, paradoxically, the danger posed by power lines is often greatest when the flight is going smoothly and the pilot is relaxed.
Whatever caused the Carterton accident, the death toll is notable in both national and international terms. The right lessons must be drawn. It would be unfortunate if more red tape had to be applied to a youthful and vigorous industry. But protecting New Zealand's reputation as a top destination for tourists may require nothing less.