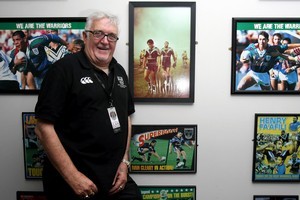 Sir Peter Leitch - The Mad Butcher
What's your favourite book?
Hugh Green: The Story of an Irish Immigrant Who Never Left Home.
Why?
It's a little bit like the Mad Butcher's story, but a bigger story. I come from a working class family and they made a little bit of money. Hugh Green made a lot of money - and I mean a shitload. And just to read about his story, it's a great book. It's a wonderful book ... It's about a man who made good.
How many times have you read it?
To be fair, I'm not a great reader - I'm only just reading it now. I got it about a week ago.
What's your favourite movie?
I like watching some of the old Westerns.
Why?
My father used to like the cowboys - watch all the cowboy movies and read all the cowboy books. It's a bit nostalgic for me.
How many times have you watched it?
I watch them quite regularly really, to be fair. I just flick them on and you see the old John Wayne movies, I can't actually give you a title but I've certainly watched a few of them a few times over.