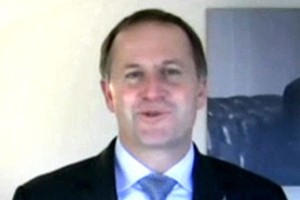 The man who became a YouTube sensation by posting a loving video to his New Zealand wife on YouTube after he was diagnosed with terminal bowel cancer will be farewelled today.
Sydney man Kristian Anderson made the YouTube clip as a birthday present for his wife, Rachel, after he was diagnosed with cancer in October 2009.
It featured an introduction by New Zealand Prime Minister John Key and a short message from movie star Hugh Jackman.
The four-minute clip also showed Anderson holding up messages for his wife against the song Marry Me, by Train.
It has had almost 500,000 views on You Tube.
When Oprah travelled to Australia last year she gave the couple A$250,000 (NZ$330,000) for medical expenses.
In Anderson's last blog, posted by his wife after his death, he said it was his time to go and he reflected on his battle with cancer.
"The truth being we're all broken, we're all cracked and what so many people see as a fault or a malfunction really is something to be considered useful.
"I'm not sure how much longer I have left but it appears that the physical and medical signs are all pointing to my end.''
His wife, Rachel, confirmed Anderson died on Monday.
"My darling husband went to meet Jesus this morning. It was peaceful and beautiful ...'' she tweeted on his account.
His funeral will be held in Sydney today.
- APNZ