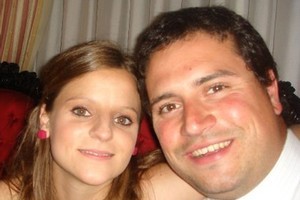 Argentine music nut Gabriel Canestrari has persuaded his fiancee to honeymoon in New Zealand so he can see his favourite Kiwi band play a gig.
Canestrari, 32, and bride-to-be Agustina Londero, 28, will fly 10,000km from Buenos Aires to watch Fat Freddy's Drop in Matakana, near Auckland, tomorrow.
"Agustina isn't as big a supporter of the group as I am and she wanted a honeymoon in Thailand, Cuba or the Caribbean," says shipyard worker Canestrari.
"It wasn't easy to convince her to go to New Zealand to see a Fat Freddy's Drop concert, so she must love me a lot."
Canestrari first fell for the sound of the Kiwi chart stars during a trip here in 1995, but he has never seen the band live. He has collected all of Fat Freddy's albums through a pilot friend, who flies the Auckland-Buenos Aires route.
"When I finally get to see Fat Freddy's Drop, it will fulfil my dream," Canestrari says. "Because it will also be my honeymoon, it will be the best of both worlds."
The trip will cost the couple about $12,000. They will wed in Buenos Aires in March but are having their honeymoon beforehand because it is the only time Londero can get off from her job as a lawyer.
Fat Freddy's trumpet player Toby Laing says the band, famous for hits such as Wandering Eye and Pull The Catch, hoped to meet the happy couple at the Matakana gig.
"We've been all around the world, but sometimes the world comes to you," says Laing. "It's quite a buzz that Gabriel has been following us for so long from faraway in Argentina."
Laing adds: "Give the man a cigar. We are looking forward to saying hello and happy honeymoon."