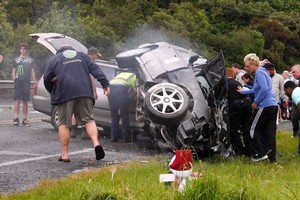 One of the cars involved in a head-on crash that killed two people on the Kapiti Coast this afternoon was packed full of holiday gear, according to one of the first people who helped at the scene afterwards.
Two people died and a number of people, including children, were injured in the "horrific'' crash which happened at a blackspot at an intersection with State Highway 1 just north of Paraparaumu about 2.45pm.
One person died at the scene but another died shortly after being prepared for transfer to Wellington Hospital, Ambulance spokesman David Ross said.|
Another person was in a critical condition, one in a serious condition and three children had moderate to serious injuries.
New Zealand Herald photographer Mark Mitchell was driving to Wellington when he came across the crash scene.
"A black Honda of some sort on its side... obviously had collided with a Holden station wagon.''
Shortly after he reached the Honda to see if people needed help, it caught fire. Another man arrived at the scene with a fire extinguisher and "saved the day'', Mr Mitchell said.
The scene was a mess and it was difficult to tell how many people were in the car, he said.
"It was loaded with holiday gear, they were obviously heading somewhere or returning with a car packed to the gunnels.
"It was a horrific situation.''
There was a lot of traffic on the road at the time of the crash and it had been raining heavily.
"It was obviously a severe collision because the Holden, the front of it was just totalled, the airbags were deployed.''
It was the same spot where 17-year-old Kelly Thompson was killed on September 30.
"Tragic when you see that little cross there with a santa hat on it and it's exactly the same place,'' Mr Mitchell said.
The death brings the holiday road toll to 13 - one more than last year's total for the entire holiday period.
The official holiday period, which began at 4pm on December 23, does not end until 6am on January 4.

- APNZ