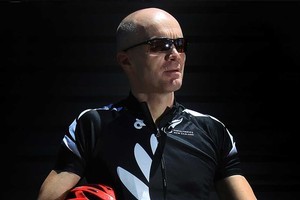 This Christmas, the Herald is again featuring the charities selected to receive a $10,000 donation from Auckland Airport. The $120,000 to be distributed came from change donated by air travellers this year.
Blind athlete Rob Matthews has a dream: To represent his country at next year's Paralympic Games and, better yet, come back with a medal.
The Aucklander is one of several athletes training hard to for the Games, to be held in London.
And thanks to a $10,000 grant from Auckland Airport to Paralympics New Zealand, he and others will be able to train on a new tandem bike.
Paralympics NZ is one of 12 charities from around the country to benefit from Auckland Airport's 12 Days of Christmas initiative.
"The new tandem is going to be a godsend at the international level, especially at the London Paralympic Games," Matthews said.
"It's really exciting to ride the bike. It's not very fun when you're in the city and there's traffic all around, but when you get to the country, you get a great sense of speed and freedom."
Paralympics NZ organisation development manager Dave Stewart said the body was incredibly grateful for the grant.
"It's amazing for us. I guess people are always trying to get out there and help out our athletes, but this is amazing."
Mr Stewart said the organisation had three tandem bicycles being used by three pairs of athletes taking part in the high-performance bike programme.
Cycling was becoming increasingly popular, but at about $10,000 a bike, it was hard to get athletes involved.
"That's the problem with specialist equipment. It's really expensive. The tandems cost roughly $10,000 so this is what the full amount of the grant will be used for."
Matthews said he would be training hard so he could travel to London and hopefully do well at the Games.
But he said there was huge need for more tandem bike pilots, who guide the athletes as they ride.
"We need good bike handlers. There's not enough of them and if we can't get them, we can't train," he said.
Auckland Airport general manager corporate affairs Charles Spillane said: "Paralympics New Zealand is an inspiring organisation, and it is fantastic that this tandem bike will provide more opportunities for visually impaired athletes to cycle."