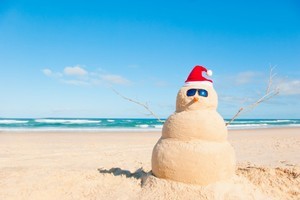 New Zealanders aren't dreaming of a white Christmas - most Kiwis would prefer to spend December 25 in (sunny) New Zealand.
Colmar Brunton's Great Kiwi Christmas survey found 76 per cent of New Zealanders would prefer a warm Christmas spent in Aotearoa, rather than heading off for a Northern Hemisphere white Christmas.
The online survey of 1060 New Zealanders found 61 per cent of respondents are spending Christmas where they want to, with the majority opting to spend the day at home or with relatives.
Overwhelmingly most New Zealanders - 84 per cent - say Christmas is about getting together with family and friends.
However 28 per cent did admit they will be checking their work emails on Christmas Day.
When it comes to how organised Kiwis are for Christmas, a quarter of those surveyed (24 per cent) started their Christmas shopping last month, while 32 per cent started this month.
An uber-organised 13 per cent started back in September, while 8 per cent say they're not buying anything at all this festive season.
And think Christmas came early this year? You're not alone.
More than half (61 per cent) think shops should wait until December before hanging the Christmas decorations.
As for whether the jolly fat man will be fatter after his Christmas Eve visits...perhaps he should look outside New Zealand for those tasty treats.
71 per cent say they won't be leaving anything for the Santa. For those who plan to help him add to his waistline, most will opt to leave a mince pie and a beer, milk and biscuits or carrots for the reindeer.
And what do we hope will be in our Christmas stocking?
For women, jewellery, cosmetics, clothes and shoes are the top gift choices, while for men would like to get electronic gadgets (cell phones, computers, laptops), cash or vouchers.
Unsurprisingly perhaps, Mum is in charge of the Christmas Day food in most homes across the country (38 per cent), followed by extended family (27 per cent) and dads (14 per cent).
And the smell of pine will fill less than a third of homes on Christmas Day, with 71 per cent of households opting for an artificial tree.