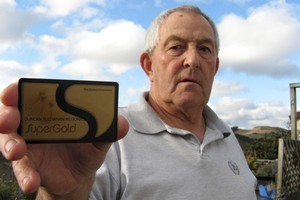 A former rugby boss has been subbed on to the field to resolve infighting in the usually well-mannered Grey Power association - bitterness that has culminated in members ripping up their membership cards and hurling them at the organisation's president.
Former New Zealand Rugby Union chief executive David Moffett, who has also led Sanzar, the Welsh Rugby Union and the Australian NRL, has been commissioned to restructure Grey Power, whose membership has plummeted from more than 80,000 to less than 65,000 in the past eight years.
The move comes after internal battles over the future of the group, set up 25 years ago to advocate for the over-50s, spilled into the public domain.
An attempt by the western Bay of Plenty branch executive to ditch Grey Power and instead operate under the supa.nz banner failed this month when members voted overwhelmingly to remain with Grey Power. Some disappointed supa.nz backers tore up their membership cards and threw them at national president Roy Reid.
The attempted breakaway followed a decision by 15 Grey Power members, including Wellington region representative and branch president Duncan McDonald, to register supa.nz as a new society. Potential members would stay away as long as Grey Power lacked professional leadership and direction, McDonald said. A more professional organisation, smaller national board and more democratic voting system would make those agitating for change happy.
McDonald said branches in Wellington, Kapiti Coast, New Plymouth and Nelson were awaiting the outcome of Moffett's eight-month review before deciding whether to split off from Grey Power. But some of the "old stooges" around Moffett would stop him suggesting the necessary changes.
Moffett told the Herald on Sunday he would help free of charge, because that was how everyone in Grey Power operated.
The 64-year-old is not a member, but was impressed by the fact Grey Power's concerns extended beyond the elderly. He will embark on a road trip early next year to meet members.