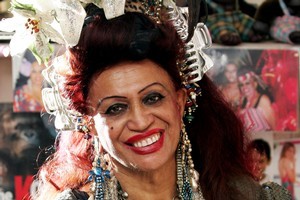 Tributes are flowing from New Zealand and Australia for legendary drag queen Carmen, who died yesterday, aged 75.
Former MP Georgina Beyer, the world's first transsexual Member of Parliament, said she had to fight to contain tears at the news.
"I looked up to her," Beyer told GayNZ.com.
"I have such huge respect for her. She provided us with visibility.
"She was so warm, so affectionate, with a great sense of maoritanga."
Maori Party co-leader Tariana Turia said she acknowledged with sadness the passing of one of New Zealand's most widely celebrated drag queens.
"Carmen was larger than life in so many respects," Mrs Turia said.
"When she walked in the room you always had a very strong sense of her presence.
"People from all walks of life respected her and appreciated the warmth and the compassion that she would share with them."
Comedian David Fane said on Twitter: "RIP Carmen Rupe, an extraordinary NZer. 21 Big eyelashes salute for you."
Carmen had kidney failure after months of poor health, and died in Sydney's St Vincent Hospital.
Her long list of accomplishments include belly dancing with a snake in Kings Cross and running for Mayor of Wellington in 1977, with the backing of Sir Bob Jones, and the slogan, "Get in Behind". She campaigned for prostitution, gay marriage and abortion rights.
Carmen, born Trevor Rupe, was one of 13 children from a Taumarunui farming family.
Her cross-dressing career took off when she arrived in Sydney's Kings Cross in the late 1950s - Australia's first Maori drag performer.
She joined the famous Les Girls revue and spent several spells in prison. (Homosexuality between consenting adults was illegal in New Zealand until 1986.)
Carmen came home in 1968 to open a brothel and a strip club in Wellington. She lived out her final years in Sydney.
Close friend Jurgen Hoffman told GayNZ.com: "Even as recently as Monday night she was lucid and coherent and had a strong will to live."
But after a fall she went downhill.
Australia's National LGBTI Health Alliance board member Peter Hyndal said the lesbian, gay, bisexual, trans and intersex community was indebted to Carmen and hoped that her contributions would continue to be recognised and valued.