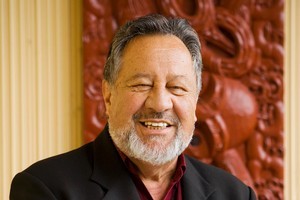 The Maori Party's Pita Sharples has been re-elected as the party's co-leader after fellow MP Te Ururoa Flavell told the party he was unwilling to challenge Dr Sharples for the position.
In another development, co-leader Tariana Turia is considering stepping down as a minister after two years and handing her portfolios over to Mr Flavell, who is widely expected to succeed Dr Sharples as co-leader.
The two co-leaders, Dr Sharples and Mrs Turia, were re-elected for three years by the party's National Council in a teleconference meeting this week. That conference replaced a post-election Special General Meeting which was scheduled for Saturday because the party had expected to deal with a change of leadership.
The teleconference followed reports Mr Flavell was ready to challenge Dr Sharples for the leadership as the party readied itself for the retirements of both co-leaders by 2014.
Yesterday, Mr Flavell said he had told the co-leaders and members of the National Council that he would not put his name up against Dr Sharples.
He would wait until Dr Sharples left the leadership of his own volition.
"There's an element of loyalty. I respect their leadership and I will not be challenging him at all. I was never going to challenge."
The move is likely to increase pressure on Dr Sharples to stand down voluntarily during the term to give Mr Flavell time to build his profile as leader and prepare for the election.
Yesterday, Dr Sharples said he was aware he would have to step down to make way for Mr Flavell.
"That may happen, it may not. We've been reappointed for three years and I guess it's something we'll work through as we go along. But at the moment I'm quite happy where I am, to go through the whole three years.
"But who knows? The best thing we can do for him is build up our party, our branches and our communications so people get a feeling we're taking them with us this time." He said Mr Flavell got "caught in the middle" of speculation about the leadership.
Mrs Turia said Mr Flavell needed experience as a minister if both co-leaders were leaving in 2014.
While she was likely to stay in Parliament, she could give up her ministerial roles in 2014 for him.
"If necessary, in the third year I would give serious consideration to giving him my ministerial role."
Labour MP Shane Jones, who stood in Tamaki Makaurau against Dr Sharples, said the party was wise to stick with Dr Sharples for a while.
"The party is going to need Pita's affectionate style, given they've got into bed with the John Key Government which has quite a harmful agenda in terms of Maori living standards. You'd struggle to find a better salesman to convince the Maori electorate that you are something syrup, not sewerage."
Party president Pem Bird said he was happy with the outcome on the leadership, but said the party would still need to sort out succession issues.
That process would begin next month when the National Council met for the first of its regular meetings.
Talk of a challenge was initially fuelled by Mr Bird saying a change of leadership could be in place by Christmas, and that Mr Flavell could also take over Dr Sharples' ministerial positions. Mr Bird has since apologised to Dr Sharples for the comments, saying he was caught off guard.