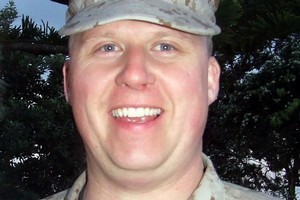 Corrections officer Jason Palmer would still be alive today had threats against him been reported to prison bosses, an inquest has heard.
The 33-year-old died after he was punched by inmate Latu Kepu on May 15 last year.
Mr Palmer was escorting the Killer Beez gang member out of his cell for his daily hour of exercise at Springhill Prison at Hampton Downs, about 65kms south of Auckland.
Kepu hit Palmer, who fell backwards and hit his head. He died in Middlemore Hospital the next day.
Gavin Dalziel is acting regional manager of prisons in the Northern Region, including Springhill, and told the inquest today that every threat against a prison officer must be reported to bosses and put on file.
The senior Corrections officer became emotional and had to pause in his evidence as he was questioned about the protocol today.
"It's ... It's my belief that if he had [reported the threats], we wouldn't be here today and I'm sure that if he had reported that to any senior management or senior officer, they would not have allowed Jason to be part of that opening."
Earlier, the inquest heard from former prison officer Roger Hinton who said on May 15 last year Latu Kepu told him: "When I get out of here, I'm going to punch him over".
He told the court that he heard Kepu refer to Mr Palmer as "that Yankee c***".
Mr Hinton said he told Mr Palmer of the threats as the pair ate lunch in the guard house but did not follow procedure and record the threats on Kepu's file.
The attack happened later that day.
Kepu was convicted of the manslaughter and sentenced to six years four months in jail for the attack, on top of the existing two years eight month term he was already serving.
The inquest is due to finish later today.
- APNZ
- APNZ