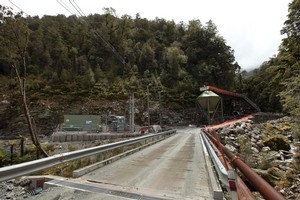 Development West Coast is to steer the $1 million that it promised to the public fundraising effort in the aftermath of the Pike River Mine disaster to the construction of a multi-purpose Mines Rescue training facility.
DWC, a fund set up by Government in the wake of the demise of native logging, put the money aside in a Pike River Distribution Fund.
Fund chairman and DWC trustee Mark Lockington said today the trust felt it was important to recognise the severity of the disaster and its impact on families, the community and the West Coast economy.
"DWC believes the training facility will be a real and enduring benefit to the Coast," Mr Lockington said.
"This is a meaningful way we can assist the mining industry and the local economy.
"It was hoped the Pike River Distribution Fund could be used to stimulate and develop business activity on the West Coast, especially those supporting the mining industry.
We saw this training facility as an ideal way to achieve those aims."
New Zealand Mines Rescue Service general manager Trevor Watts was delighted with the decision.
"The training centre will allow us to provide the industry with a state-of-the-art training facility, while still maintaining our core capability as a rescue organisation.
The more education and knowledge in the industry the more we can raise safety awareness with the ultimate aim of preventing incidents from occurring," he said.
Currently, Mines Rescue operates a small training facility at Rapahoe including a small underground training tunnel.
The new facility, at the same site, will be purpose-built with the potential to include a virtual reality training theatre, allowing miners to experience real life dangers in a controlled environment.
- APNZ