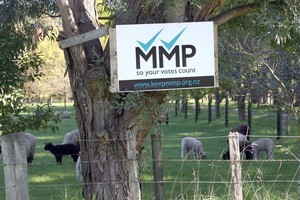 Polls in recent weeks indicate New Zealanders are keen to keep hold of MMP, but many nzherald.co.nz readers are keen to ditch the proportional voting system.
In fact of the those who responded to our Your Views question "Should NZ stick with MMP?", 235 readers wanted the system dropped, compared to 174 who wanted it retained.
The belief minority parties have undue influence in Parliament was the main reason given for dropping the Mixed Member Proportion system.
"No, any system that give a party that 90% of the country voted against the balance of power by combining with a party that 56% voted against and a party that got the most votes has no say, is not democracy," Free Thinker from Picton wrote.
"If a minority want their views heard then let them join a real party and if they can't convince that party to adopt their views then chances are it is not something most New Zealanders want."
Just Me from North Shore said MMP goes "against everything democracy stands for".
"The people who are elected in each constituency are the people's choice and are the ones who should go to parliament, not some losers who nobody voted for but still gets in due to a crappy system like MMP.
"MMP emulates exactly what communist countries do, it let unelected people run the country. So much for democracy then."
Ezkimo said there were better options available, but the debate had been cast as MMP versus First Past the Post, which was last used in a New Zealand General Election in 1993.
"We never want to see FPP again and MMP is full of aberrations and too many list MPs.I support STV (Single Transferable Vote) and will be voting to change."
Ray21 also did not want either MMP or FPP.
"We need to go to Preferential Voting which is democratic and makes the MP at least stand in the constituency instead of doing a deal with the party boffins to go on the list!"
However others believed MMP should be retained, albeit with a little tweaking.
"There is a little room for improvement but overall still good," Don Saunders wrote.
"[MMP is] way preferable over First Past the Post. That was unfair as often the party that got majority share of the vote lost as they won the least seats. MMP is also better because it gives minor parties the chance to have an influence on policy."
BigbadSue also backed MMP.
"Although [MMP] needs improvement, FPP is not worth considering, and the others are too tricky to understand."
Sam said MMP gives everyone a fair go, regardless of where they live.
"Every vote counts. If we go back to First Past the Post then if you are a National voter in safe Labour seat (or vice versa), your vote is totally wasted."
GL backed Sam's logic.
"When we changed from FPP to MMP we finally got a system where your voted counted no matter where you lived in the country. Back in the day it was only those in marginal electorates who counted and got attention during t