Missed something from the campaign trail? nzherald.co.nz has the latest election updates as we count down to tomorrow's election.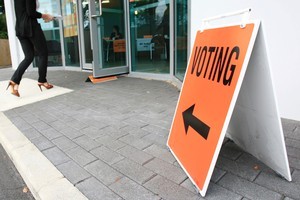 It's 4pm and the top stories of the day so far are:
- Final polls show National over 50% and NZ First over 5%
- A flight to Auckland from Nelson was diverted last night so it could pick up stranded passengers - who just so happened to be John Key and his entourage. This act has Phil Goff and Mana candidate Sue Bradford calling foul over the PMs "special treatment" even though Air NZ insists it was merely procedure.
- Kiwiblog blogger David Farrar has accused Winston Peters of being an illegal candidate - something Peters has denied.
3:58pm: Jessica Mutch tweets again
@MutchJessica
"Leaving Manukau in final few legs of National bus tour from Wellington to Auckland. Not far to go..." #votenz
3:56pm: TVNZs Jessica Mutch tweets
@MutchJessica
"John Key says he didn't ask Air NZ to divert flight to pick him up in New Plymouth last night." #votenz
3:52pm: Pundit blogger Tim Watkin has written a final election summary for the day. He writes:
"I'm working on the assumption that National will be able to form some sort of government after Saturday night. What's fascinating is that we have no idea what shape it will take. John Key could be the first Prime Minister since Sid Holland to win a popular majority or he could be begging the Maori Party for confidence and supply."
3:42pm: Newstalk ZB reported Labour's pinning its hopes on undecided voters as the final hours tick by on the election campaign.
A Roy Morgan poll out today has the party on just 23.5 percent support.
3:33pm: David Farrar has also responded to Winston Peters on Kiwiblog.
"Winston normally starts with a lie, and he rarely disappoints. I'm not paid by anyone to blog. The blog does gain some revenue though through advertising, and the major advertisers this election have been Labour, Greens and Forest & Bird."
3:29pm: David Farrar reponds to Winston Peters denial his standing is illegal.
@dpfdpf
@3NewsEditor I have responded to Peters quoting his own president and treasurer who contradict him #votenz
3:25pm: NZ Herald's Claire Trevett writes Labour leader Phil Goff is urging voters not to let National get an absolute majority this election. He said he believes National will "abuse" such power and sell off entire state assets.
3:20pm: Unsure about your local electorate? Check out our Electorate Map here.
3:17pm: John Key takes his campaign to Manukau. With pic.
3:14pm: NZ Herald's Derek Cheng writes:
"Senior Government ministers have launched an extraordinary attack on Labour leader Phil Goff on the eve of the election, calling his claims about police recruitment a stain on his political legacy."
3:03pm: Phil Goff tweets
@phil_goff
"I'll be campaigning until midnight tonight. Talking with the public, finding every vote we can. Give two ticks to Labour!"
2:53pm: 3News reports: On Facebook, Vote for Change has 1648 followers. The Campaign for MMP has 3,272.
2:47pm: Labour has issued a dramatic press release that says "Labour will keep the campaign pressure up till the last possible minute, to fight for a future for all Kiwis."
It sounds like Labour is ready to go to war.
2:43pm: NZ Herald's Claire Trevett tweets
@CTrevettNZH
"Best billboard I've seen all campaign. Is that cat the one on the cats like david cunliffe website?" With pic.
It's 2:30pm and it's time for a recap of the top stories today.
- Final polls show National over 50% and NZ First over 5%
- A flight to Auckland from Nelson was diverted last night so it could pick up stranded passengers - who just so happened to be John Key and his entourage. This act has Phil Goff and Mana candidate Sue Bradford calling foul over the PMs "special treatment" even though Air NZ insists it was merely procedure.
- John Key's famous "charm" didn't work for him yesterday while on tour in his campaign bus. He received a fairly frosty welcome down in Coastlands, according to NZ Herald deputy political editor Claire Trevett.
2:22pm: Listener Live has posted an Election Night Sweepstake.
Just when you thought election night couldn't get more fun...
2:18pm: NZ Herald tweets Rod Emmerson's latest cartoon
@nzherald
Cartoonist Rod Emmerson considers another Act election strategy: nzh.tw/10768542 #VoteNZ
2:16pm: Katie Bradford tweets
@katieabradford
"Gutted to be the bride who turns up to her wedding to find the prime minister and his bus and entourage. This is the case in Hamilton."
2:14pm: Newstalk ZB's Katie Bradford tweets
@katieabradford
"The PM is officially a wedding crasher."
2:07pm: 3News reports:
"At midnight tonight election campaigns will be over, politicians will relax, and attempts to sway voters must stop for polling day."
2:03pm: Felix Marwick tweets
@felixmarwick
"Labour really pushing its message as campaign enters final hours." #decision2011. With pic.
2:00pm: Winston Peters has released a press release disputing David Farrar's earlier claims that Peters is an illegal candidate.
"Farrar has written a blog about New Zealand First claiming it is an incorporated society when in fact it is a registered political party. An incorporated society simply holds and protects the name "New Zealand First", which has been the case since 1993.
"All Mr Farrar had to do was contact the party secretary and this would have been explained. He could also have checked with the Electoral Commission.
"Or he could have taken sound legal advice."
1:55pm: @3NewsEditor James Murray tweets:
"RT @RadioLIVENZ Matthew Hooton is asking Winston Peters if he has endorsement from Kyle Chapman right now on @RadioLIVENZ!" #votenz
1:51pm: Newstalk ZB's Barry Soper has released his last political report before the election and says if you don't go up and vote then you can't "bitch about those who're enjoying the baubles of the Beehive". He writes about the campaign so far:
"John Key's treated like a pop star and has pressed more flesh in the past four weeks than his new found buddy the Mad Butcher has in a year.
The frothing Phil Goff who has three times the political experience as The Homie, can only look on and fume."
1:48pm: Derek Cheng tweets
@dchengnzh
"Self-promotion." #votenz. With pic.
1:46pm: John Key tweets a pic.
@johnkeypm
"Talking to supporters in Hamilton." #VoteNZ
1:39pm: The Dominion Post has also scored the best and the worst of the campaign today.
The most memorable line used? According to the article: "Show me the money" - John Key's taunt of Phil Goff.
1:38pm: Derek Cheng tweets
@dchengnzh
Key and the big bus arrives in Hamilton at the verandah cafe, where a wedding is taking place - just before the bride is about to arrive
1:34pm: Mana have released their industrial relations policy today. Highlights include promoting indutry wide pay scales, provision for the right to strike and a 40 hours only working week. For the full policy see here.
1:30pm: Listener live blogger Toby Manhire writes on his blog: "Media law experts Dean Knight and Steven Price have both commented on the Kiwiblog thread that questions the legality of Winston Peters' candidacy. They don't think there's a problem."
1:28pm: Parody Don Brash Twitter account "Dr Brash" tweets
@DrBrash
"Never gonna give Brash up / Never gonna let Brash down / Never gonna vote for Goldsmith / And hurt you." #SingIt! #VoteNZ
1:26pm: 3News Patrick Gower tweets
@patrickgowernz
"PM shared some pizza on the John Key bus." #votenz. With pic.
1:23pm: APNZ reports tens of thousands of people have this week picked up their phones to hear John Key, or at least his voice, on the end of the line.
Key has been using automated messages in the last leg of his campaign to gather support.
For the final week of the election campaign, National has been running an automated phone call campaign, featuring a message from the Prime Minister asking for votes.
1:19pm: Listener live blogger Toby Manhire has posted a summary of what the bloggers are saying today. Check it out.
1:16pm: Derek Cheng tweets
@dchengnzh
"John Key says he hasn't had any discussions with the Conservatives or done any deals with Colin Craig in Rodney #votenz
1:01pm: Phil Goff tweets
@phil_goff
"Quick pit stop with supporters at a cafe in Tokoroa. Next stop, Karapiro." With pic.
12:45pm: Felix Marwick tweets from the Labour campaign trail.
@felixmarwick
"Goff says vote not collapsing. Indicates Labour is trying to sway undecideds." #decision2011
12:24pm: Newstalk ZB's Felix Marwick tweets
@felixmarwick
"Goff says it would be unacceptable if AirNZ diverted plane for PM." #decision2011
12:18pm: NZ Herald's Derek Cheng and Claire Trevett write today is the last day of the National campaign, and Mr Key is feeling a "combination of excitement and exhaustion".
"It's been a long campaign and a long year when you go back to the Christchurch earthquakes, everything from the Rugby World Cup to the Rena," said Mr Key.
12:17pm: On live chat.
Comment From Mark
"If the minor parties such as Mana hold the balance of power after November 26th what would be your some of your coalition demands to the major parties?"

Hone Harawira:
"No demands. We have no intention of going into coalition. We need to build the movement, and build the team."
12:16pm: Hone Harawira is on NZ Herald Live Chat now to answer your questions.
12:11pm: David Farrar has claimed Winston Peters is an illegal candidate. He writes on Kiwiblog:
"Winston Peters did not get selected as an electorate candidate, so his nomination as a list candidate is illegal under the rules of the NZ First Party, as governed by the Incorporated Societies Act.
If he is not a legal candidate for the New Zealand First Party, then any election of him to Parliament can be challenged."
12:05pm: 3News political editor Duncan Garner has told Firstline the ACT Party was "toxic and contaminated" and John Key "should not have gone near them for his infamous cup of tea publicity stunt".
12:01pm: TVNZ's Jessica Mutch tweets
@MutchJessica
"National is the road again today. Only a few hours left to campaign." #votenz. With pic.
11:57am: Mana candidate Dr Peter Cleave has spoken in Palmerston North to supporters about Mana foreign policy. He emphasised three parts of Mana policy:
1. Working with indigenous people
2. All foreign investment must satisfy Treaty of Waitangi impact settlement
3. Implementation of a "Hone Heke" tax to "restrict speculation on NZ dollar".
11:52am: David Farrar has posted on Kiwiblog the "10 bad policies you will get from a Labour led government."
They include "No path out of debt, a return to 1970 style national industry agreements and Repeat violent and sexual offenders will get out of jail much earlier."
11:46am: Public Address contributer David Slack is not impressed with Act's campaign. He tweets
@DavidSlack
"Knowing Mr Farrar's abhorrence of political manipulation of the young, I imagine he will want this up on his site ASAP." With pic.
11:44am: Newstalk ZB's political editor Barry Soper described Winston Peters as the "dark horse, or black sheep", of the election.
He said there's a good chance Winston Peters will be back in parliament after running a very good campaign and "cashing in" on the secret recording between John Key and John Banks.
11:41am: The Green Party released a statement saying National have managed to dodge the critical issue of foreign ownership of state-owned energy assets on the eve of the election.
11:39am: Derek Cheng tweets:
@dchengnzh
"Don Brash had McDonalds for dinner last night. The penultimate supper." #votenz
@dchengnzh Derek Cheng
"Nats big blue bus now bound for Cambridge." #votenz
11:34am: Blog spot Tumeke has posted the five things Phil Goff needs to win tomorrow:
1 - Peter [Dunne] loses to Charles [Chauvel] in Ohariu
2 - ACT are wiped out in Epsom
3 - The Maori Party lose Te Tonga to Labour and Waiariki to MANA
4 - The undecided swing against the Government
5 - NZ First gain over 5% and MANA bring in 3 MPs
11:32am: The Dominion Post reporter Kate Newton writes about the possible power scenarios after the election.
"Will National grab an outright majority, will it be compelled to form a coalition, or will a minor party hold the balance of power? These are the possible scenarios tomorrow."
11:28am: Derek Cheng tweets
@dchengnzh
"Who is the bigger cheese?" #votenz. With pic.
11:26am: Mana leader Hone Harawira will be with us on NZ Herald Live Chat today from midday to answer all of your questions.
11:23am: Derek Cheng comments from National's campaign trail today.
@dchengnzh
"Starting them young." #votenz. With pic.
11:16am: NZ Herald contributer Morgan Godfery has written it's a three-way contest in the Maori electorates between Labour, the Maori Party and Mana.
"Under MMP we have more Maori in Parliament, but unless Maori vote strategically we could have a reduction in the number of Maori members returned, and Maori-issue parties could lose strength."
11:02am: David Farrar has written a column for the Herald listing "post election possibilities".
He has looked at what could happen if NZ First get the support they need or if National allies Act and United Future don't get in. Very good reading. Check it out here.
11:00am: Tweet from John Key
@johnkeypm
"Watching a haka in Rotorua with National MP & candidate Todd McClay. Great to see so many National supporters out." With pic.
10:54am: Scoop columnist Gordon Campbell has posted his latest column on what he calls "information shearing".
"John Key - the Richie McCaw of New Zealand politics - was allowed to trap the ball and get away with murder. On (a) asset sales, (b) the Epsom tape and (c) the employment (non) effects of raising the minimum wage, the Key government did not release information - including Treasury advice and research paid for by the taxpayer."
10:51am: 3News have released the full "3News Opinion Poll" report on to Scoop.
10:48am: Political commentator John Armstrong has made his predictions for the election result in his column in the Herald Online.
"National's share of tomorrow's vote will be higher than the nearly 45 per cent the party secured three years ago.
"But it will more than likely fall short of what will be required for it to govern alone."
10:42am: Natasha Burling of Newstalk ZB writes that the money made from the sale of NZ assets may not even make a dent in the countries debt.
National says $5 billion to $7 billion could be raised by selling off a portion of state assets.
Woodward Research senior analyst Nick Lewis says New Zealand has $71 billion worth of debt.
10:39am: Chris Slane has done another cartoon for Listener live blogger Toby Manhire, this time of Bill English. Check it out here.
10:35am: Derek Cheng tweets
@dchengnzh
"John Key in Rotorua, supporting White Ribbon day as White Ribbon ambassador." #votenz
10:29am: Newstalk ZB reported that passengers on a flight from Nelson to Auckland yesterday were angry when they thought their flight had been diverted just to pick up John Key and his entourage.
Air NZ has confirmed in a statement that this was not the case. The flight the PM was meant to be on was cancelled and there were no other flights available so the flight from Nelson was diverted to help. Air NZ has said this is not unusual.
10:26am: Public Address contributer David Slack tweets
@DavidSlack
"I like how @danylmc puts it: "Key's vision is simply of a country in which he is Prime Minister."
10:21am: Mana Party candidate John Minto accused New Zealand of "blatantly discriminating" against many Pacific people who have made an "immense contribution" to the country.
"The most obvious discrimination is with Tongans and Samoans," he said. "Cook Islanders and Niueans are effectively citizens of New Zealand."
10:16am: NZ Herald columnist David Farrar has provided some commentary on the latest Roy Morgan Poll on Kiwiblog.
10:13am: APNZ's Amelia Romanos writes "Two days before the referendum, voter opinion still appears to be well on the side of MMP."
10:11am: The Electoral Commission wants to remind everyone to vote tomorrow.
"This year it's more important than ever to have your say. Not only will we be voting for the politicians who will represent us in parliament, we'll also be voting for the system we use to elect them in the future," says Robert Peden, Chief Electoral Officer.
10:08am: NZ Herald columnist Jim Hopkins urges people to remember who owns this election and how lucky we are in this country to have the choice.
"This much is certain; better ballots than bullets. We vote tomorrow because we can. It's the gift of our history."
9:59am: Derek Cheng adds
@dchengnzh
"PM did not say "vote National" but was joking with the stewardess to vote for him while she was on the plane's PA system." #votenz
9:52am: NZ Herald's Derek Cheng tweets to clarify claims made by Sue Bradford in a Mana press release today.
@dchengnzh
"PM did not request the flight, and they weren't the only passengers that got collected." #votenz
@dchengnzh
"Sue Bradford calls PM power crazy after a flight is diverted to collect him last night." #votenz
9:45am: Pundit's Rob Salmond has posted a "Final Poll of Polls Update", and writes it shows little change.
"Five more polls this week. Four today. Little change. National can govern alone. Winston will not make it (but it could be close)."
9:42am: 3News have posted "The definitive election guide: Where, why and how to vote." A good, easy to follow guide which you should check out.
9:40am: Labour's Annette King tweets
@annetterongotai
"Matthew Hooton has just said Katrina Shanks stupid 4 campaigning in Ohariu and her actions 'have been noted' by the Nat Hierarchy !!"
9:36am: 3News Ali Ikram tweets
@AliIkram
"This election campaign has had all the life and zest of a fruitless mid term by-election in Selwyn ... We deserved better I think." #votenz
9:32am: Radio NZ reports as much as 225,000 eligible voters are yet to join the electoral roll.
The Electoral Enrolment Centre national manager Murray Wicks has said 145,000 eligible voters between the ages of 18 and 29 have failed to register, most of them living in cities with universities. This group makes up 67% of those not enrolled.
9:29am: TVNZ reports "With just hours left before the general election, a political analyst says it's almost as if a campaign need not have happened."
"Raymond Millar told TV ONE's Breakfast that the polls have barely moved since the start of the campaign."
9:26am: Newstalk ZB reports Phil Goff is confident of his "police freeze" claims and has insisted they can be confirmed.
9:22am: NZ Herald political commentator John Armstrong asks if we "should all prepare for the zombie apocalypse" now that Winston Peters is stronger in the polls.
"To borrow Phil Goff's language, the Epsom tea party was supposed to be about John Key breathing life back into Act. This fiasco instead pumped oxygen into another political cadaver - New Zealand First."
9:02am: NZ herald political editor Audrey Young writes "An overwhelming majority of voters believe National will be the winner after tomorrow's election, the final pre-election Herald-DigiPoll survey shows."
9:00am: 3News editor James Murray tweets
@3NewsEditor
"RT @RusselNorman Glad to see Key and Goff finally taking the bus!" #votenz
8:57am: APNZ reports on the Otago Daily Times: "With one day to the election, a new poll shows Act's John Banks still trailing National's Paul Goldsmith by 9 per cent in the crucial seat of Epsom - meaning the Act Party would be history."
8:49am: The Herald has reviewed the campaign trail so far. Categories include best and worst party performance (Greens and Act respectfully), best performance (Russel Norman) and best election website (Cats that look like David Cunliffe).
8:45am: Herald online has posted an editorial "Parties have spoken, now it's our turn." The key message? Tomorrow morning when you go to vote, be true to yourself and select the party and candidate that you support.
8:42am: John Key seems to be getting a good response in Taupo today. NZ Herald's Derek Cheng tweets @dchengnzh
"John Key signs a card for a little girl who invited him to her b'day party tomorow. He can't go." With pic.
8:40am: Phil Goff tweets
@phil_goff
"I pledge never to commit, condone or remain silent about violence towards women". #whiteribbon. With pic.
8:38am: The Mana Party has completed a "parasites on poverty tour" in South Auckland.
NZ Herald's Yvonne Tahana writes "It started at a bottle shop in South Auckland where it was difficult to squeeze past crates of Woodstock bourbon. It moved to a pokie bar and a lender's business."
8:34am: Phil Goff has called the Nat's "arrogant", while stoking fears surrounding asset sales in Dunedin.
NZ Herald's Adam Bennett reports "Addressing workers at KiwiRail's Hillside Workshops in Dunedin, he again pointed to opinion polls that have consistently shown widespread public opposition to selling off almost half of all four state-owned energy companies and national flag carrier Air New Zealand."
8:32am: Derek Cheng tweets
@dchengnzh
"A woman jokes "John Key signed my chest" after getting an autograph for her apron." #votenz
8:30am: 3News reports bad news for Act Epsom candidate John Banks, who still trails National candidate Paul Goldsmith in the polls.
8:26am: Green co-leader Russel Norman and finance minister Bill English have appeared on Radio NZ's Morning Report. Listener live blogger Toby Manhire has done an excellent summary of what was said on the site.
8:25am: Derek Cheng
@dchengnzh
"Louise Upston jokes: "who wants the prime minister's sausage?" With pic.
8:21am: Radio NZ reports National has said it has given an absolutely firm commitment that the only assets that will come under mixed ownership in the next term will be Air New Zealand and the four energy companies.
8:15am: According to Newstalk ZB's Felix Marwick, Labour is "optimistic" candidate Rino Tirakatene will win the Te Tai Tonga electorate, despite reports Maori MP Rahui Katene leads the opinion polls.
"It always was going to be a tight race," said Tirakatene.
8:13am: Derek Cheng tweets again on the National campaign trail
@dchengnzh
"John Key arrives in Taupo to his own giant head on a blue bus." #votenz. With pic.
8:12am: NZ Herald political reporter Derek Cheng tweets
@dchengnzh
"Last roy morgan poll - nats on 49.5, lab 23.5, greens 14.5 and nzf 6.5." #votenz
8:06am: NZ Herald's Claire Trevett writes National leader John Key's "charm offensive" did not quite pan out on the National bus tour yesterday.
"One man rattled his trolley and sneered at Mr Key's outstretched hand. "No, I don't want to shake your hand, mate. I'd rather shake hands with [Sir Robert] Muldoon than you."
"At Coastlands Mall Alan Parsonage berated him for his oft-cited campaign claim that National had increased the pension for married couples by $166 a fortnight over the past three years."
8:03am: Newstalk ZB's Felix Marwick writes Labour has pledged support to people left "in the lurch" once insurance company Ansvar pulls out of the New Zealand market.
8:01am: A last minute rush for party leaders to "woo" potential voters is expected today, according to Newstalk ZB.
"For the Labour leader it's reminding the country that he won't sell our assets, for the National leader it's hammering home the message that only he can be trusted to steer our economy through tough times."
8:00am: NZ Herald political editor Audrey Young writes a recent Herald Digipoll has National sitting over 50% - however they may still need Act, the Maori Party or United Future to govern alone.
NZ First is also holding steady just over the 5% threshold.
It's 8am and we're back for the final day of live coverage for this election.