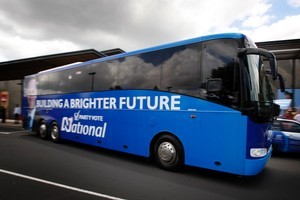 National leader John Key's final two days of the campaign kicked off at 7.30am, on the National Party bus leaving from Wellington Railway Station to blitz the North Island.
Mr Key briefly met commuters getting off trains before boarding the bus.
Mr Key said although it had been a while since he caught a bus, he wanted to do something different for the final two days.
He also promised there would be no singing - a dig at Labour's Axe the Tax bus trip in 2010 on which Labour MPs were singing to Stuart Nash's guitar.
He said New Zealanders treasured their votes and he wanted to meet as many as possible.
The bus began the day almost empty apart from staff and media - it is expected to pick up local candidates and supporters as it travels up to New Plymouth today.
It proved a faster ride than Labour candidate Charles Chauvel's campaign caravan which it easily overtook on Ngauranga Gorge.