Missed something from the campaign trail? nzherald.co.nz has the latest election updates as we count down to November 26.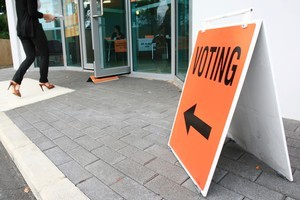 Alright, it's 4:00pm now and that is all our live coverage for the moment. To summarise, the top stories of the day were:

- Phil Goff claims he is "sick to death " of the teapot tape saga.
- NZ First and Winston Peters are only a "whisker away" from their needed 5% accordingto the recent Herald Digipoll.
- The tea tape camera man who left the device on the table is considering a defamation case that could cover Prime Minister John Key, National's campaign manager Steven Joyce and Act leader Don Brash.
We'll be back on Monday for more live coverage, but for now have a good weekend!
3:55pm: Newstalk ZB's Felix Marwick tweets:
@felixmarwick
"No political speeches expected at Pike River commemorations tomorrow. Gov' General to speak. PM to give a Bible reading." #pikeriver
3:50am: United Future leader Peter Dunne tweets:
@PeterDunneMP
"Labour pushing for greater govt. transparency. Fine, but a good start would be independent costing of election promises."
3:46pm: The Public Service Association has slammed National's vision for public services released today.
In a statement the PSA said "New Zealand has one of the most efficient and cost effective public services in the world. What National's proposing will erode that and could even put lives at risk."
3:43pm: ACT New Zealand Leader Dr Don Brash today described Labour's 'Roadmap for the Economy' as a dead end policy of yet more spending, more borrowing, higher taxes, and more unemployment.
"Both National and Labour have tried the tax and spend approach and it has not worked. ACT has a plan to get the economy back on track, because in uncertain times New Zealand needs a real roadmap for growth, not Labour's dead end," Dr Brash said.
3:41pm: Listener live blogger Toby Manhire has posted a summary of what the bloggers have been saying today.
3:26pm: Felix Marwick tweets
@felixmarwick
"I'm feeling sorry for the camera guy who's been staking out RNZ all day waiting for the cops to arrive and execute the #teapottapes warrant"
3:22pm: 3news reports that the surprise loser of the tea tape controversy is Phil Goff because he has been unable to get his message across.
James Murray writes "But aside from the potential damage to the Prime Minister's reputation and the continuing waffly, demise of John Banks as a sure-fire thing in Epsom, there is another more surprising loser.
And that's Labour leader Phil Goff."
3:16pm: Fairfax reporter Andrea Vance tweets:
@avancenz
John Key explaining asset sales to man with a sausage sandwich. No really...! #votenz. With pic.
3:04pm: According to Newstalk ZB, the Prime Minister believes a national cycleway will work as a major tourist attraction.
John Key said "For all of its quirkiness, the cycle way is something that's really attractive to all those European travellers, is something they like because they come for the scenery."
3:02pm: The Campaign for MMP has now gone commercial. You can now buy shirts or buttons to promote their cause.
2:58pm: Hone Harawira has called for the Maori party to "come clean" and state which side it's on.
"If our people give their party vote to left-leaning parties such as MANA, Labour and the Greens, will you support their wishes to form an alliance with those parties?
"Our people want to know Tariana and Pita if you will you support a National-ACT Coalition Government?"
2:55pm: Newstalk ZB's Felix Marwick tweets:
@felixmarwick
"Goff responding to critics over potential post election Gov'ts. Labour's made MMP work in the past and can make it work again." #decision2011
2:53pm: NZ Herald Columnist David Farrar tweets:
@dpfdpf
"Just had a thought. If NZF does make 5%, then major parties lose 2-3 seats each to NZF. May mean Labour loses Shane Jones and Andrew Little."
2:46pm: Pundit guest blogger Morgan Godfrey writes regarding Labour's Maori policy.
"On the whole, it's pretty standard...There are generic commitments to "improving the standard of living of all Maori" and "support(ing) and encourage(ing) research and development initiatives". But interestingly the policy statement isn't totally generic or, as John Pagani put it, 'waffle'."
2:39pm: Newstalk ZB reported tha John Key will not back down from his comments that police had a lot of free time, regarding their investigation of the "teapot tapes".
2:26pm: Newstalk ZB reporter Blair Cunningham writes that a restructure of the tax system is in Labour's sites.
Labour have accused National of muddling through, and lurching from one financial crisis to another.
2:22pm: NZ Herald political reporter Adam Bennett writes that Labour leader Phil Goff says he is "sick to death'' the teapot tapes are diverting attention away from key issues including asset sales, the cost of living and young New Zealanders' job prospects.
2:19pm: Felix Marwick tweets:
@felixmarwick
"Epsom poll due tonight on TVNZ. could be very interesting." #decision2011
2:14pm: National party campaign chair Steven Joyce writes that the latest Labour "grab bag of economic slogans," is nothing more that 32 pages of Labour "waffle".
He said "The party remains in denial about how much the world has changed over the past four years."
"This is the same recipe that the old Labour regime used to get New Zealand into recession before the rest of the world in the first place."
2:06pm: Fairfax reporter Andrea Vance tweets:
@avancenz
"Cheesy?" #votenz. With pic.
2:03pm: Tariana Turia will be on Radio Live after 2pm.
2:00pm: @3NewsEditor tweet by James Murray
"Does this vision of an impossible, dystopian future look more like John Key or Phil Goff?" #votenz. With pic.
It's 1:55pm and the top stories of the day so far are:
- Winston Peters has declared he won't tell how he learned of the contents of the teapot tape.
- National have released their state service policy and as part of it, John Key has announced another cap will be put on the sector at current staffing levels of just over 36,000 jobs.
- The tea tape camera man who left the device on the table is considering a defamation case that could cover Prime Minister John Key, National's campaign manager Steven Joyce and Act leader Don Brash.
1:49pm: Annette King tweets:
@annetterongotai
"In Upper Hutt with Chris Hipkins. They love him here! High fives and waves all around".
1:45pm: Pundit contributer Tim Watkin writes about what it will mean if National hold the majority of the power after this election.
"Such an outcome offers National huge opportunity - and huge risk. If, if, it has a majority of MPs it can get through all its election promises without having to compromise in coalition negotiations. "
1:41pm: 3News also reports that more than 56,000 advance votes have so far been cast for the general election, well up on figures from 2008.
1:38pm: 3News reports "New Zealand First is within striking distance of getting back into Parliament, probably largely because of a National Party media stunt that went wrong."
"Since the teapot tape scandal broke at the beginning of the week, NZ First has climbed steadily in the polls."
1:33pm: Newstalk ZB reports National have released its state service policy today with spokesman Tony Ryall saying they would look at opportunities to have fewer agencies. This could mean more ministry and department mergers could happen.
1:32pm: NZ Herald reporter Paul Harper writes that New Zealand First leader Winston Peters is not going to reveal how he learnt of the contents of the tea pot tape.
1:26pm: Education minister for National, Anne Tolley, has stated that Hastings will benefit from an ECE funding boost to help develop early childcare education.
1:20pm: Radio NZ reports that Phil Goff released the Labour party's economic development policy in Auckland today.
Policies include a capital gains tax, an increase in the age of payment for superannuation and broadening the objectives of the Reserve Bank Act.
1:15pm: Winston Peters is on Radio Live now.
1:11pm: Patrick Gower of 3News has interviewed John Banks about the teapot tapes and the piece has been put on their site.
In his piece, Gower handed Banks a copy of the transcript from the conversation but Banks kept saying he didn't remember and would not answer any questions.
1:05pm: Labour claim they can protect victims of domestic violence by making it easier for people to access and maintain state house tenancies.
Spokesperson Moana Mackey said "Where domestic violence victims do manage to access state housing, the inflexible, punitive, one size fits all approach of Housing New Zealand means that if anything goes wrong, tenants are not shown any understanding."
1:03pm: Mana's Sue Bradford tweets @suebr
"Release I"ve just put out re breath-taking double standards of John Key when it comes to interference in peoples' lives."
1:00pm: Metiria Turei tweets @metiria
"Rawiri Patatene & kids from Edmund Hiliary School on Te Aurere waka, listening to history & safety it's a gorgeous day." With pic.
12:57pm: NZ Herald political reporter Derek Cheng is out on the campaign with the Greens.
He tweets @dchengnzh
"Greens co-leaders + waka + harbour water. Bad things could happen ... "#votenz. With pic.
12:24pm: Outrageous Fortune star Robyn Malcolm has posted a video on YouTube to try and encourage New Zealand people overseas to vote for the Greens.
12:22pm: Phil Goff is answering questions on TVNZ live chat now.
12:12pm: Labour has released another statement, this time directed towards National's management of the proposed second harbour crossing.
"Labour's Auckland Issues spokesperson Phil Twyford says he is concerned that the possibility of simultaneous tolls on the existing Harbour Bridge as well as on a second Harbour crossing will unfairly impact on North Shore residents."
A cabinet document released by the National Government allows for simultaneous tolls to be placed on both harbour crossings.
11:55am: NZ First candidate for Manukau East, Asenati Taylor, got into a poorly thought out exchange of insults with Whaleoil blogger Cameron Slater. Slater has just posted them all over his blogging site, complete with screen shots of tweets. Oops (quick note - site may include content that could offend).
11:54am: Comment from Winston Peters on Herald live chat:
"Too big to fail, too big to be held accountable is not something I believe in."
11:50am: Labour want to implement an open government charter which will force all parliament documents, with some exemptions, to be released on to a dedicated website.
This is only one of many matters being consulted on and you can read the full list here.
11:46am: The latest Colmar Brunton poll has shown the "tea tapes" have had little impact on National's popularity. Support is only down 1%, making the rating 53%.
11:43am: Comment from Winston Peters on live chat:
"As for the tea party tapes, they've been a diversion in what is a short campaign after the RWC. I didn't attend the tea party and I've moved on."
11:40am: Labour will be releasing it's consumer affairs policy today. The policy will include clamping down on "predatory lenders" and loan sharks.
11:39am: Winston Peters has denied he is going to be a "kingmaker" on NZ Herald Live chat.
"We're going to use our support to bring accountability to Government and elevate the primacy of Parliament in our democracy."
11:33am: 3 News' Jono Hutchison tweeted earlier:
@JonoHutchison "Will the police search TV3 today? Not sure, but might strip down to my underwear pre-emptively so everyone knows I'm not hiding the tea tape"
11:30am: Winston Peters is chatting live on NZ Herald. One of the comments so far:
Comment From David
"Hey winston, What's your favorite kind of Tea? ;)"
Winston Peters:
"It was Dilmah, but I'm moving to a new brand. Honest-tea."
11:26am: Workers at the Auckland Pacific Branch of Immigration have been laid off six weeks before Christmas thanks to National policies, according to Labour's press release.
"The bad news for 14 families came in a wordy, bureaucratic letter from the Department of Labour," Labour spokesperson Su'a William Sio said
11:23am: Labour have issued a "roadmap for the economy". one example of what will be addressed is "Restructure the tax system so everyone pays their fair share and shift the focus from property speculation to investment in our productive sectors."
11:20am: National's State Services spokesman, Tony Ryall has said, "As an incoming Government we put a cap on staff numbers in core government administration. The level we inherited was unsustainable and unaffordable."
11:17am: Felix Marwick tweets:
@felixmarwick
Peter Dunne says he's not adding to the media obessession on the #teapottapes by issuing release critical of media coverage #decision2011
11:13am: National MP Tau Henare tweets:
@tauhenare West Side Tory
"I see my opposition is calling for a bus way that wld cost at least 400 million. Well why didnt we make a ferry terminal for the Peninsula."
It's 11:08am and the top stories so far are:
- The latest Herald Digipoll has Winston Peters a "whisker away" from his need 5% support, at 4.9%.
- The tea tape camera man who left the device on the table is considering a defamation case that could cover Prime Minister John Key, National's campaign manager Steven Joyce and Act leader Don Brash.
- John Key's claim that the police have "a lot of spare time" has been slammed by New Zealand Police Association as "silly".
11:07am: Winston Peters will be joining the NZ Herald live chat at 11:15am this morning.
11:02am: Newstalk ZB reporter Natasha Burling and Newstalk ZB staff write that police won't say whether they'll be bringing Winston Peters in for questioning over his supposed quotes from the teapot conversation.
11:00am: TVNZ reporter Jessica Mutch tweets from Queenstown.
@MutchJessica
"Riding in a Gondola following John Key in Queenstown - another day in the office," #votenz
10:53am: Newstalk ZB reporter Katie Bradford-Crozier reports:
"National will continue its pruning of the public service, justifying it by saying the country has to get back into surplus.
John Key has announced another cap will be put on the sector at current staffing levels of just over 36,000 jobs."
10:47am: NZ Herald political reporter Derek Cheng is out with the Green party today. He tweets: @dchengnzh
"The Greens checking their greens, #votenz. With pic.
10:39am: NZ Herald reporter Isaac Davison writes that not every picture is as it seems. National Epsom candidate Paul Goldsmith was photographed recently removing what appeared to be his own signs from the Epsom area.
Some bloggers said it was evidence Goldsmith wanted to turn people off voting for him. Mr Goldsmith, on the other hand, said he was the victim of a "dirty trick."
"It was a silly stunt. Some people blew up pictures of my business card to A3 size, and put four or five of them out unauthorised, in an illegal spot," he said.
10:37am: Green Party NZ tweets:
@NZGreens
"The richest 1% of NZ owns three times more than the poorest 50%. We have a plan for that!" #votenz
10:34am: Gordon Campbell has posted a blog that talks about whether politicians should have the same rights to privacy eight days before an election.
"No one ever thought it would be easy to balance the issue of privacy on one hand, and the public interest on the other, concerning what the Epsom tape contains."
10:30am: Chris Slane has drawn his impression of John Banks running from the media. See it posted on Toby Manhire's Listener blog.
10:22am: Newstalk ZB chief political reporter Felix Marwick tweets @felixmarwick
"National to lower cap on core gov't administration staff," #decision2011.
10:20am: The Green party co-leaders have visited Edmund Hillary School today in Papakura.
"Papakura is a great place to live. But it has some challenges: there are some areas of deprivation in this community. Our plan to get 100,000 children out of poverty will directly help these kids," Metiria Turei said.
10:17am: Whaleoil blogger Cameron Slater writes the Green vandals are still at it, defacing billboards in West Auckland.
"There has been more Green party-linked hoarding attacks last night in West Auckland.
Despite being busted and Russel Norman fessing up in the face of the evidence released on this blog they have not stopped.
National should lay complaints formerly with the Police and with the Electoral Commission."
10:10am: According to TVNZ reporter Jessica Mutch in Queenstown:
@MutchJessica
"John Key isn't backing away from comments made about police having free time to search media org over secret tapes," #votenz.
10:09am: In a release from the Maori party: "Education and te reo spokesperson for the Maori Party, Te Ururoa Flavell, is calling for the retention of public service television broadcasting in the lead up to the threatened demise of TVNZ 7."
10:05: TVNZ reporter Jessica Mutch tweets from National's campaign trail in Queenstown.
@MutchJessica
"PM has announced tourism policy in Queenstown saying we need more high value tourists. No new money though," #votenz.
10:01am: NZ Herald columnist and chief political commentator John Armstrong writes that John Key's "blustering" reminds him of the Muldoon era.
"The Prime Minister's statement yesterday that National's success in cutting the crime rate has given police spare time to pursue his complaint about the secret taping of his conversation with John Banks sounds astonishingly naive, but is also deeply disturbing."
"It is unlikely that the spirit of Sir Robert Muldoon has taken hold of Key. But you have to wonder."
9:51am: The Green party have said in a statement that John Key needs to stop deep sea oil drilling.
"John Key needs to tell New Zealanders what he discussed with American oil company Anadarko when he met its CEO on Tuesday, said the Green Party today."
9:45am: Labour MP Jacinda Arden is getting some surprise spam.
@jacindaardern
"How on earth did I end up on ACT's targeted mail list?!"
9:43am: NZ Herald columnist David Farrar asks if Winston Peters will decide the outcome of the election again.
"If NZ First makes five per cent, then there is a reasonable chance Peters will hold the balance of power. His caucus will defer to him absolutely."
9:40am: Newstalk ZB's Felix Marwick also tweets
@felixmarwick
"Cos having cups of tea works so well. Labour's Josie Pagani is following the Key/Banks lead and will have a cuppa with Jim Anderton #WTF?"
9:33am: Newstalk ZB chief political reporter Felix Marwick tweets
@felixmarwick
"Labour will review response performance on Chch quakes. May change civil defence laws if necessary," #decision2011.
9:30am: Hayley Hannan of APNZ and Audrey Young of New Zealand Herald write "National Party's campaign chairman Steven Joyce told Radio New Zealand this morning the minor parties were raising their profiles through the media attention around the recordings.
"You've had the minor leader's debate this week. This is always the week of the campaign where minor parties get their opportunity to, if you like, step up a bit in terms of their visibility. And that is happening.''
9:28am: NZ Herald political reporter Adam Bennett writes "Act leader Don Brash wants top state schools including Auckland Grammar to have the freedom to set up franchises elsewhere, including blue-collar areas such as Porirua."
9:25am: Amelia Romanos of APNZ writes that according to the Herald Digipoll survey, John Key and National are not to blame for the "shift across the ditch".
9:23am: The One News Colmar Brunton poll is posted on Scoop.
"The latest ONE News Colmar Brunton poll shows National support is down one point to 53%, Labour has dropped to a ten year low with 26% and the Green Party has picked up Labour party votes to put them on a record high of 13%."
9:21am: NZ First leader Winston Peters will join the NZ Herald Live chat at 11:15am today.
9:18am: NZ Herald reports John Banks followed suit last night and ran out of a meeting in Epsom when confronted by more questions about the "teapot tapes".
The Act candidate strode into Epsom Baptist Church with a group of party acolytes, but was soon under pressure over the teapot scandal from other politicians and waiting media.
9:09am: Dr Pita Sharples, leader of the Maori party, is on Radio NZ's Nine to Noon now.
9:08am: Greens MP Kevin Hague tweets
@KevinHague
"So with Greens polling 13%, what is the threshold for TV stations including us in debates with Lab/Nats?"
9:06am: Mana's Sue Bradford, ever vocal as always, tweets
@suebr
"Teapot murk is obscuring the fact that the Nats are really only pushing 2 big policies this election - asset sales & beneficiary bashing."
9:04am: NZ Herald reports "Ahead of election day referendum on the future of MMP as New Zealand's electoral system, the Mood of the Boardroom survey found 65 per cent of chief executives wanted it scrapped."
9:02am: Peter Dunne tweets from his campaign trail: @PeterDunneMP
"Feeling sick of tea-tapes? Click here for something you might not have seen over the last week... POLICY!!"
9:00am: Listener live blogger Toby Manhire has posted a review of this morning's papers on his site.
8:56am: On Radio NZ it was reported that Annette Sykes of the Mana party took offense to the "100% Maori" political approach of the Maori party, calling it racist.
It was also reported that the Maori party are losing some of the strong support they had at the beginning of the election campaign as much of it is going to Mana.
8:54am: NZ First released a statement yesterday saying that jobs and employment growth are a top priority.
8:52am: United Future leader Peter Dunne tweets
@PeterDunneMP
Beautiful day in Crofton Downs and a warm response from commuters. Will be out and about in Johnsonville and Khandallah today.
8:49am: Labour Dunedin South MP Clare Curran tweets @clarecurranmp
"Labour to release NZ's first Open Govt policy today." #openlabournz #ownourfuture #votenz
8:46am: NZ Herald reporter Amelia Wade writes that police have hit back over claims by the Prime Minister that they have a lot of spare time.
"There is not one police officer in the country who has a "bit of spare time'' as John Key claims they do, says the New Zealand Police Association."
8:43am: AUT academic and senior lecturer in journalism, Greg Treadwell, has applauded Radio NZ's resistance to hand over "tea tape" information to the police, calling it "state bullying."
8:39am: Mana Party member Annette Sykes has said the search warrants being issued to news media outlets for tea tape information are "a blatant breach of political power".
8:32am: The Greens have stated, according to Newstalk ZB, that the tea tape saga has gone from the ridiculous to dangerous. Metiria Turei has said with the police now seeking to search four media outlets including TVNZ and RNZ for information, John Key has set a "dangerous precedent".
8:21am: Ali Ikram has done an excellent piece of satire for 3News.
Earlier in the week a former Green party member was accused of defacing National billboard with pointed comments like "Drill it! Mine it! Sell It!" so Ikram decides to do his own kind of defacing on Labour billboards - by adding Phil Goff's face.
8:17am: Alexia Russell of Newstalk ZB writes the Aotearoa Legalise Cannabis Party leader Michael Appleby has said New Zealand is entering a trade partnership with countries that have barbaric drug sentencing laws.
The Trans-Pacific Partnership involves countries including Brunei, Malaysia, Singapore and Vietnam which still have the death sentence.
8:15am: NZ Herald political editor Audrey Young has classed National's new law and order policy "draconian' but says it's also gathered a lot of support.
"It is most popular among National fans, with 87 per cent of them liking it, but its support goes a lot wider."
8:13am: NZ Herald political reporter Derek Cheng writes "The main plank of National's law and order policy ... is proposing the indefinite detention of the country's worst offenders who are at a high risk of reoffending."
8:12am: Jamie Morton of the NZ Herald writes: "The Green Party has called for ships with local crews who "know New Zealand waters and hazards'' under a hard-line oil spill policy announced against the backdrop of the Rena disaster yesterday."
8:06am: Radio NZ reports National party campaign manager Steven Joyce has told Morning Report the party's internal polls show the public does not believe the controversy is worthy of further attention.
He says the party's polling shows a large majority of people think there are more important issues to focus on.
8:04am: NZ Herald political reporter Derek Cheng writes "The cameraman who made the "teapot tape" says his reputation is under attack, and he is considering a defamation case."
Bradley Ambrose, a freelancer, is seeking an urgent judgment in the High Court at Auckland on the recorded conversation between Mr Key and Act candidate John Banks.
8:01am: The latest NZ Herald Digipoll has Winston Peter and NZ First "within a whisker" of returning to parliament. The party recorded 4.9% , just short of the 5% needed to get into power.
It's 8am and we're back for live updates of election coverage throughout the day.