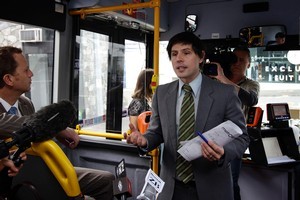 The Green Party would push the Government to fund 60 percent of Auckland's proposed CBD rail link, and redirect money earmarked for motorways into public transport.
Greens co-leader Russel Norman and transport spokesman Gareth Hughes released the party's transport policy this morning (Monday) while giving media and supporters a bus tour of the proposed CBD rail link.
Mr Hughes said the party backed the Auckland Council's vision for improved public transport and would look to push ahead with construction of a rail link in the next term.
The proposed $2.4 billion project would create a 3.5 km underground rail loop with stations in Newton, Aotea Square and Karangahape Road.
Mr Hughes said the rail network would be financed by redirecting money which had already been allocated to the National Party's ``Roads of National Significance''.
It would end the transport bottleneck at Britomart _ which caused havoc at the opening night of Rugby World Cup _ and provide the basis for an efficient, compact city.
A council feasibility study predicated that the rail link would triple the CBD area's capacity for employees and residents.
Dr Norman said better bus and train services were good for all road users and crucial to strengthening Auckland's economy.
"The Green Party's affordable, costed plan will deliver a 21st century transport network, safer neighbourhoods, and cleaner air while saving everyone money."
The Greens also promised that they would invest more than $500 million in bus-related projects in Auckland and make it safer to walk and cycle, with $30 million allocated to walking and cycling projects.