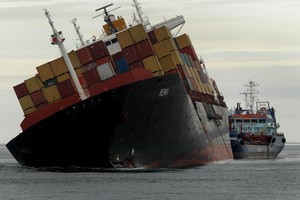 Work on lifting about 1280 containers from the Rena can start this week now most of its fuel oil has been removed. Photo / Alan Gibson
Salvors on the Rena are being lauded for saving the Bay of Plenty from a second big spill after removing all but the dregs of the grounded container ship's heavy fuel oil.
The milestone means authorities will probably reopen beaches this week and start the tandem phases of clearing the remnants of the oil and unloading about 1280 containers from the vessel.
The crane barge Sea Tow 60 will head out to the Rena this morning.
Maritime New Zealand expect it will take at least a day for the crane barge to get into position to begin removing containers.
The start-stop pumping operation was plagued by everything from short circuits to violent storms, but yesterday, Prime Minister John Key described its outcome as "very, very successful".
"I think the people of Tauranga will be very happy they haven't had the environmental disaster that some predicted."
Tauranga Mayor Stuart Crosby said the result was "tremendous news".
"The salvors have done an amazing job under treacherous conditions to avoid an environmental disaster.
"I guess we've all gone through a series of emotions that we all do in this type of event. There has been disbelief, frustration, anger, and now relief - relief that the oil has been taken away by these great people."
The community's focus would now be on re-establishing its reputation as being "open for business" and mopping up what was left of the pollution.
Transport Minister Steven Joyce warned that the threat of pollution from the Rena was not completely gone.
"I think people in the Bay of Plenty will rightly be breathing a bit of a sigh of relief, but that doesn't mean we are completely out of the woods."
The process of removing all of the containers from the ship would take several months and there was a "very significant risk" many would tumble into the sea during the operation.
About 60 tonnes of oil remained in one tank and more was trapped in the breached and water-logged duct keel along the length of the Rena's bottom.
"So we can't say there won't be more oil on the beaches - that's still a significant possibility - but not of the volume people were worried about."
Maritime New Zealand salvage unit manager Arthur Jobard said it would take a few more days to remove oil left in the starboard No 5 tank.
Oily waste from the engine room and remnants of oil left in the port No 5 tank were also still being recovered.
Authorities would now be measuring how much oil was on the bunker barge Awanuia to get an accurate figure of what had come off the ship.
National on-scene commander Mick Courtnell said the progress at sea had brought enormous relief to clean-up workers toiling on the shore.
"Our oil spill response team has been doing painstaking work over the past few weeks, cleaning and re-cleaning, all the while being prepared for another big spill at any moment," he said.
Mr Courtnell hoped to make an announcement tomorrow lifting beach access restrictions imposed from Mt Maunganui to Maketu.
Mt Maunganui's earlier reopened main and Tay St beaches were yesterday crowded with hundreds of sun-seekers amid sweltering heat.
"It's been long enough ... It should be sweet as," said 18-year-old Abraham Webster, who spent the morning jumping from rocks into the water.
On the other side of Leisure Island - closed for much of last month - Faith van Duin, from Rotorua, went snorkel-diving for kina.
But just a few metres away, several fat sacks of tar-like oil collected from the island's shores showed the clean-up will continue for a long time.
"We're still picking up bags and bags of it," contractor Malcolm Edwards said.