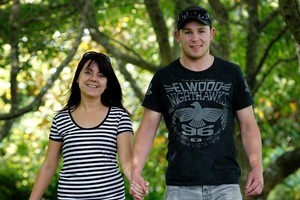 Steve Overend is Mr Forgetful, but even he will struggle to forget his wedding date.
Today, the 28-year-old will marry his fiancee of three years, Ruth Ireland, on the special date of November 11, 2011 - 11/11/11.
A large number of people wanted to get married on this date and it could be because, as dates with a recurring digit occur about once in every 100 years, it is seen as being very lucky or, if some websites are to believed, not so lucky as they predict the world will end.
At 3pm today Miss Ireland, 23, will arrive at the Cathedral of the Blessed Virgin Mary in Hamilton East to tie the knot.
"Dad said maybe you should get married at 11 past 11am - but I thought that's probably a little bit too much," the relaxed bride said.
When the Morrinsville couple got engaged 18 months ago they had been looking for a fun, quirky and memorable date and when they chose Sarnia Park near Lake Karapiro as their reception venue they stumbled across 11/11/11.
"We looked at Saturdays and there weren't very cool Saturday dates and we realised the Friday was 11/11/11 so we went, 'Lets go with that - it's a cool date,"' Miss Ireland said.
The marketing co-ordinator was particularly conscious of choosing a date her forgetful fiance would remember for anniversaries to come and Mr Overend thinks that, unlike most other things, this is one he will have trouble forgetting.
"I forget everything: my keys this morning, I took them out to the ute and I came back with nothing.
"Leaving my lights [headlights] on ... I will take my Jandals off at the door and leave with bare feet," the contract supervisor for a Hamilton sign installation firm said.
Miss Ireland added sunglasses and mobile phones to the list of things he lost and they replaced.