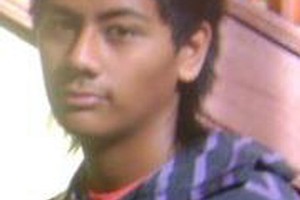 At an emotional funeral at Avondale College, Sanele Pauli's mother Teevao choked back tears yesterday as she recalled her eldest son.
"He was the kind of character we all aspire to be. He was friendly, funny, loving, humble and obedient. We trusted him with everything," she said.
Looking at his casket, which was draped in a white and blue shroud, she said: "Thank you for making me the most blessed mother, to have you as my son and now my guardian angel."
The night New Zealand was celebrating the All Blacks' Rugby World Cup victory, two very different lives collided.
On the bus home with his younger siblings was 17-year-old Sanele Pauli, a "model" student about to graduate from Avondale College and the "best son" a mother could hope for. Speeding towards the city and over the breath-alcohol limit was a 38-year-old disqualified driver with three drink-driving convictions.
Pauli was struck by the car, in front of his brothers, Tapu, 15, and Sefo, 14.
The Herald on Sunday visited the last known address of the driver who killed Pauli, but the man had moved out in the middle of the night in June.
The man's cousin, whom he used to share an Onehunga flat with, said: "We don't even know his number any more. No one knows."
Constable Justin West of the Serious Crash Unit said the driver had been spoken to but charges had not been laid regarding the death.
Police allege the 38-year-old was speeding and had a breath-alcohol level of 512mcg. The limit is 400mcg.
celeste.anstiss@hos.co.nz