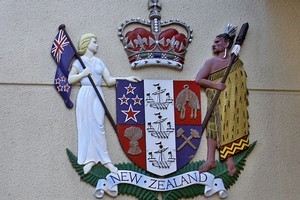 The father of a west Auckland girl found hiding in a cupboard after being subjected to months of torture and abuse has pleaded guilty to his part in her horrific ordeal.
The details of the abuse, revealed by the Herald in December, prompted an investigation into Child, Youth and Family and other agencies' interactions with the family.
The girl's father, who has name suppression to protect her and her siblings, appeared in the Auckland District Court on Thursday and pleaded guilty to representative charges of neglect of and cruelty to a child, and a representative charge of assault on a child.
Court documents said the man used a vacuum cleaner pipe and a broomstick to beat the girl.
He was remanded on bail and will be sentenced in December.
Last month the 9-year-old's mother, whose name is also suppressed, pleaded guilty to 25 charges including assaulting the girl with a machete and hammer, kicking her in the vaginal area while wearing work boots, tearing her toenail off and pouring salt on the bleeding toe, and writing abusive comments on her body.
She will be sentenced this month.
The girl was found by police in November last year hiding in a cupboard - reportedly starving, dehydrated and covered in injuries. Soon after, the Herald revealed that CYF removed the girl from her mother's care in 2001 because of concerns of neglect, and the girl was sexually abused while in the care of her extended family.
A man has been charged in relation to that abuse.
She was returned to her parents' care in December 2008 and the physical abuse began soon after.
The girl's teacher described in an email to the Prime Minister obtained by the Herald how the girl came to school with black eyes, bruises and infected wounds.
The girl and her four siblings are now in foster care.
As a result of the case Social Development Minister Paula Bennett demanded a review and report on the girl's care.
That report has been presented to Ms Bennett, but she has yet to release the findings.
She could not comment yesterday, saying it was inappropriate to speak about the case until after the girl's parents had been sentenced.
But advocacy group Family First wanted the report made public.
"The excuse for not releasing the report earlier was that the case was still in progress. With the guilty pleas of both parents, the Government can now release the report, and they should do so immediately," said national director Bob McCoskrie.
Mr McCoskrie said the fact that the girl's family had been involved with CYF, a family support agency, a registered ACC counsellor, a court-appointed psychologist, the child's court-appointed lawyer and a child and youth mental health service was "ample proof that the 'bottom-of-the-cliff' approach" was not working.