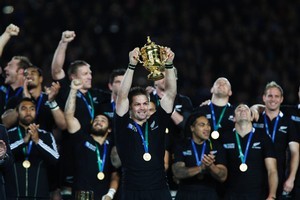 Hardly anyone thinks the Rugby World Cup was a waste of time, whatever its costs - though most say winning the cup isn't enough to merit giving Richie McCaw a knighthood.
A Herald-DigiPoll survey asked 750 people between October 20 and 27 a series of questions about the World Cup, including who the next All Black coach should be.
Just over 52 per cent said they did not know, but the most popular picks were assistant Steve Hansen - and for resigning head coach Graham Henry to stay on.
Robbie Deans came third at 6.2 per cent, Warren Gatland fourth at 5.3 and John Kirwan fifth at 3.7.
The poll also asked: "Do you think Richie McCaw should be knighted for winning the Rugby World Cup?"
The All Black captain, who the Prime Minister had joked would deserve a knighthood if he led his team to victory, got only 39 per cent saying "yes".
Just over 61 per cent said McCaw should not be knighted solely for winning the cup.
Squash world champion Dame Susan Devoy recently told the Herald that individuals should not be knighted for sporting achievements alone.
"I would like to think that [my honour] was for some other contribution than my sporting one, otherwise it seems a bit shallow."
But a member of the cup-winning All Black camp would "undoubtedly" be given the title "Sir" - and "Sir Richie's got a nice ring to it, doesn't it?"she said.
The tournament's organisers, the Government and local governments have each spent about $300 million on cup-related projects, and a further $300 million came from stadium operators, community trusts and other stakeholders.
Of the $1.2 billion total, $555 million went into stadiums, more than $200 into local expenses, $150 million to organisers' costs such as hosting teams and officials, $150 million in fees to the IRB, and the remainder into other infrastructure projects.
Tournament organisers finished with a deficit of $39 million after ticket sales - of which the Government is covering $26 million and the New Zealand Rugby Union $13 million.
Prime Minister John Key recently defended the country's investment in the World Cup, saying it was "$39 million well spent".
The Herald-DigiPoll survey asked New Zealanders if they thought the price tag justified the tournament.
The majority - 57 per cent - said yes: "It was a great event, and worth the Government spending $40 million."
Two-fifths said it had not been worth spending $40 million on, and 3 per cent said it had been a waste of time.