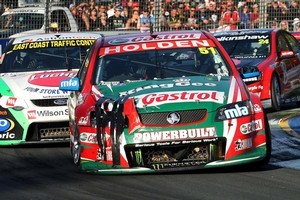 The Audit New Zealand report on the $40 million Hamilton spent on hosting the V8s will be made public tomorrow - provided no one tries to stop or delay its release.
Hamilton City Council's former chief executive, Michael Redman, has expressed concern on the length of time he has been given to respond to the $130,000 report.
Mr Redman, now chief executive of Auckland's tourism, events and economic development unit, said he received the report on October 14 and was given until today to respond.
"Given my feedback on the draft is due next Wednesday, it appears it won't be given due consideration," Mr Redman said last week.
"This reinforces my concerns all the way along."
"I'm bound by confidentiality, for now, but you should be as interested in the flawed process as you are in the outcome."
Former mayor Bob Simcock last week publicly raised similar concerns.
Council chief executive Barry Harris had his first look at the report on Friday when he was advised by the council's lawyers, Tompkins Wake, to ensure the council was not in breach of legal obligations by making parts of the report public.
As a result of the advice, Mr Harris said some figures and company names would be removed so the council was not breaking any confidentiality agreements in regard to releasing commercial information.
He did not expect any sections of the report would be removed from the public's view.
Mr Harris said yesterday afternoon there had been no attempts to block the public release of the report.
He was not sure whether Mr Redman had been given any additional information from Audit New Zealand.
Mr Harris expected that other affected parties, along with Mr Redman and Mr Simcock, had received copies of the report from Audit New Zealand but he had not been told who else.
"It's not for me to speculate as to they are."
He was not aware of any staff, including council deputy chief executive Blair Bowcott, who was second in charge during the decision-making process over the V8s, being given the report.
Mr Bowcott said it was inappropriate for him to comment.
Hamilton Mayor Julie Hardaker and councillors will be given the report to read tomorrow afternoon at 1.30 along with a presentation by the two Audit New Zealand staff who carried out the review.
They will also be given a chance to ask questions of the Audit New Zealand staff before the meeting is opened to the public and councillors have the chance to debate it.
Mr Harris will review the report after the release and will present any recommendations to improve the council's processes.
The council has paid $124,000 for the review despite having a budget of $130,000 and $20,000 in legal costs.
This cost excludes the latest bill for the work being carried out by the council's lawyers.