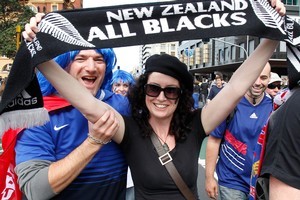 Revellers kept emergency services busy in parts of the country last night following the Rugby World Cup win, with celebrations continuing today.
As excited and boisterous fan packed into fan zones and city centres to celebrate the All Blacks' Rugby 8-7 victory, police, fire and ambulance services attended a rush of incidents during the night.
In downtown Auckland police and emergency services were kept busy as fans flooded the streets to celebrate the result.
It was a "fairly disorderly night'', with 46 arrests, said police.
Ambulance services were also stretched, with almost 400 callouts across the city, including Eden Park, the CBD and fan zones, and about 40 people were taken to hospital.
Many of the callouts were for chest pains, cuts, bruising and alcohol-related injuries, said St Johns spokeswoman Sarah Martin.
"It was like a very busy Saturday night. Usually it's close to 300 [callouts] on average and this was close to 400,'' she said.
In Dunedin fire officers were called to a succession of streets around the city after about 20 fires were lit by partygoers following the All Blacks' win.
Several couches were set alight by revellers in "usual Dunedin student behaviour'' and six people were arrested during the night, said Senior Sergeant Mel Aitken.
"There weren't too many lock-ups but certainly some student mayhem,'' she said.
The lower Octagon, which was packed with fans, was closed to vehicles at about 11.30pm and in general people most people were well behaved, said Senior Sergeant Aitken.
Emergency services in Wellington and Christchurch reported busy nights but generally good behaviour from excited crowds.
Police Commissioner Peter Marshall praised the work of police staff and partner agencies throughout the tournament for helping to deliver a "trouble-free and successful'' event for locals and visitors.
"Their focus on proactive alcohol management, interaction with fans, supporting security staff at venues and identifying potential trouble spots has paid dividends,'' he said.
They had set a benchmark for policing major sporting events, said Mr Marshall.
A victory parade for the All Blacks will be held in Auckland starting from Queen St at 2.30pm today.
Further parades will follow in Christchurch tomorrow, and in Wellington on Wednesday.

- APNZ