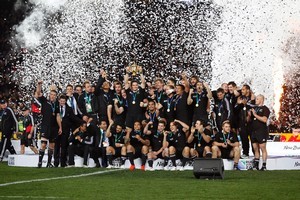 The joy and pride of the All Blacks' victory was felt across New Zealand as great Kiwis shared in the nation's celebrations.
Sir Murray Halberg, former Olympic gold-medal athlete and founder of the Halberg Trust said: "I'm absolutely thrilled. What a great game and what ... a great time to be a New Zealander."
New Zealand children's author Margaret Mahy said she was delighted the All Blacks won.
"It was like seeing a fairy tale played out in front of you," she said.
"I was delighted. I thought France did well, but of course we did a little bit better ..."
Meanwhile, international players took to twitter last night to congratulate the All Blacks.
Irish captain Brian O'Driscoll said: "Congrats NZ, no doubt the best team in the world.
Thanks be to God it's over!"
Even New Zealand's public enemy number one, Australian firs-five Quade Cooper said: "France were great all game, but congrats to the Kiwis for winning the RWC. After 3 RWCs as favourites, its good to see them win."
England naughty boy, centre Mike Tindall said: "Congrats NZ consistently best team. France better team today, but that's the sign of a great team when you can win when you don't play well."
Springbok Victor Matfield said well done to NZ and added: "How humble is Graham Henry after such a great career as ABs' coach."
All Black tweeter Cory Jane, banned from Twitter for the duration of the cup, sent his first tweet minutes after the final whistle.
"1st things 1st - I'm back #Twitterworld and at PACE." Later he tweeted: "I just wanna thank everyone for there [sic] support this year on my ups and downs."
His third tweet of the evening was: "Are we aloud [sic] 2 drink now??? Or will the media report this haha."