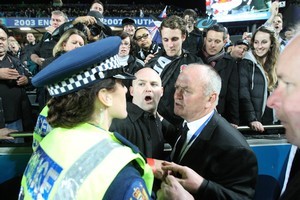 One of Graham Henry's sons was stopped by police from celebrating with his father after the All Blacks victory in the Rugby World Cup - leading to a scene with the All Black coach.
Police defended their actions last night in stopping Graham Henry's son from running on to the field - even if it did appear to annoy the victorious coach.
The incident happened after the ceremony in which the All Blacks received their winners' medals and the World Cup. Henry's son tried to join him on the field from the stands.
A Herald photographer saw police officers stop him from doing so and led him back towards the side of the field.
Henry saw what was happening and went to intervene, telling officers it was his son. But his son was not allowed to join him because of strict rules that do not allow anyone without accreditation on to the field.
Before Henry could get to his son officers linked arms to prevent the reunion - still unaware of who the intruder was. He was led away while Henry was then joined by his wife Raewyn and another family member. They appeared miffed at what had gone on. The encounter was over quickly.
Early today, Auckland police Inspector Gary Allcock said staff were following protocol. Officials were not allowed to let anyone on to the field, "and no one knew who the man was. Security asked them [police] to give them a hand".