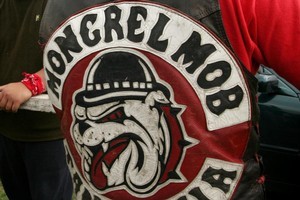 A Mongrel Mob member and his associate attacked a man and tried pulling him out of a Rotorua diner because they didn't like the colour of a T-shirt he was wearing.
Sedgwick Litala, 22, of Whakatane, appeared in Rotorua District Court before Judge Ian Thomas yesterday for sentencing on one charge of common assault.
He was jailed for six months.
Litala was jointly charged with Harold Wahia, who was previously sentenced to a jail term for the offence.
Judge Thomas described the attack as "pathetic" and "thuggery".
Police said that on December 16 last year Litala and his associates "took offence to an item of clothing" and started verbally abusing the man before attacking him.
Litala and three associates went to Joe's Diner in Amohau St early that morning.
The police summary described Litala as a member of the Mongrel Mob gang who, with his associates, was wearing either a Mongrel Mob patch or colours.
The victim had ordered some food and was waiting for his order at the counter when Litala and an associate took offence to an item of clothing the man was wearing, accusing him of wearing the colours of a rival gang.
Litala threw a full bottle of fizzy drink at the victim before swearing at him.
Litala and Wahia then started punching the victim in the head and the body.
"The victim protected himself the best he could using both his arms to cushion the blows," the police summary of facts states.
The offenders then tried to pull the victim from the diner and out onto the footpath before their other associates intervened and told them that the man had had enough.
The victim was punched about eight times to the head and body and suffered bruising and scratches.
Litala later told police he had had an argument with his girlfriend and had been in a bad mood.
He said he was sorry for what he had done.
In sentencing Litala, Judge Thomas said attacking someone because of the T-shirt they were wearing was "pathetic".
He described the attack as "simply thuggery".
The victim, who was a professional, was now wary of dealing with people who were in a drunken state, the judge said.
While he acknowledged Litala had apologised for the attack and had moved away from the gang, he sentenced Litala to six months in jail for the assault.
"You end up paying for what you do and this was a serious event."
- APNZ