Bowel cancer is New Zealand's second biggest cancer killer but a new screening system could save hundreds of lives.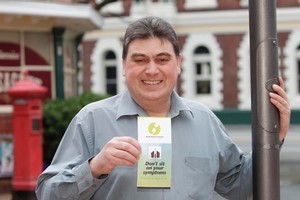 It took at least six months before Peter Krijger sought medical help for what turned out to be the only symptom of the cancer growing in his lower intestine.
Even when he received a medical-check-up voucher from his health insurer in December 2004, he found reasons to put it off until the following March - Christmas, a conference, holidays.
"[I had] started going to the toilet more often, then eventually it was explosive. My wife said this doesn't sound right," says Krijger, an IT specialist who is now 51 and has children aged 12 and 17.
"I'm a bloke, I don't see the doctor unless I feel really crook. I wasn't in any discomfort or pain. There was no bleeding or anything like that."
The doctor sent him for a colonoscopy - a check, under light anaesthetic, of the large intestine using a flexible viewing tube equipped with a camera and mini-instruments to take tissue samples of possible tumours and remove potentially pre-cancerous growths called polyps.
"It turned out they found a large tumour in the lower bowel. It was quite scary. I thought, 'How can I have cancer? I feel fine."'
After that, Krijger felt like his life was no longer his own. He had radiotherapy. Surgeons removed the tumour. He had a suspected surgical complication which involved more surgery. He spent more than three weeks in hospital, followed by two months recovering at home.
But recover he did, and he's had no recurrence of the cancer, meaning that, because it is more than five years since the treatment, he is considered cured.
When the tumour was detected, it was still within the bowel wall.
"It was just about to burst through though. If I had waited much longer, it wouldn't have been too good."
Which is why people who may have symptoms are encouraged to seek early assessment, and why New Zealand is embarking on its first bowel cancer screening programme.
The Waitemata District Health Board pilot screening programme will be officially launched on Wednesday. The first potential participants are expected to receive letters in the mail within weeks.
The four-year pilot, on whose results the Government will decide whether to establish a national screening programme, aims to reduce bowel cancer deaths by offering two-yearly screenings to more than 130,000 people in north and west Auckland.
New Zealand has one of the world's highest rates of bowel cancer. In 2008 it was the country's second most common cancer and cause of cancer deaths. In that year, 2801 new cases were notified and there were 1280 deaths. The chances of developing bowel cancer rise steeply from age 50.
Those eligible for Waitemata's screening are: anyone living in the area who will be aged 50 to 74 on January 1 next year, who is eligible for Government-funded health services and who does not have symptoms of bowel cancer, a disease which can develop without early warning signs.
People with possible symptoms, such as changed bowel habit or unexplained rectal bleeding, and especially those with the so-called "alarm symptoms" of weight loss, anaemia (which can cause tiredness) or an abdominal lump, should see a doctor, as should those with a strong family history of the disease.
The first people to be invited for screening will be 500 randomly selected patients from the Torbay and Kaipara medical centres.
They will be sent letters by their medical centre, followed by one from the DHB, then the screening invitation-proper: a brochure, a consent form and the screening kit.
The kit is for collecting a tiny faecal sample which is tested for "occult" - invisible - traces of blood, potentially a sign of cancer or other problems in the colon and rectum.
Using the materials supplied, the user seals the sample into the collection tube, places this in a zip-lock bag and puts that, with the completed consent form, into a cardboard envelope, which is posted for lab testing.
A downside is that some test results will be wrong - some people with cancer will get a negative result, and some without cancer will get a positive - which is why participants have to remain vigilant for symptoms. The lab has three days to produce a test result. People will be notified of negative results by letter within 15 working days after the result arrives at the DHB.
For positive results, mainly the person's GP will contact them within 10 working days of receiving the result and make a referral for colonoscopy at Waitakere Hospital. From day 11, or if the person didn't name a GP, the screening unit takes over the process.
Bowel cancer can, as Peter Krijger found, usually be treated successfully if detected early. More than 90 per cent of patients treated at the earliest stage of colorectal cancer will be alive five years later. This plummets to less than half if cancer cells have spread to nearby lymph nodes, and to less than 10 per cent if they have spread to distant organs like the liver or lungs.
A 2009 study in the New Zealand Medical Journal found that just 14 per cent of bowel cancers were diagnosed early, with 30 per cent, 34 and 21 per cent at each of the three later stages respectively.
The clinical director of the pilot programme, surgeon Mike Hulme-Moir, says screening programmes overseas have led to a "stage shift" towards earlier detection, and that's what is expected to happen in Waitemata.
It should save lives. Trials of two-yearly faecal-test screening overseas found the death rate decreased by 16 per cent after 10 years - which would be more than 200 lives a year nationally in New Zealand.
The charity Beat Bowel Cancer Aotearoa welcomes the Waitemata scheme, but is baffled the Government hasn't dived straight into a national screening programme.
Chairwoman Rachel Holdaway, aged 46 and a bowel cancer survivor, says screening programmes overseas have established that their benefits outweigh the disadvantages.
"Compared to other countries like Australia, Canada and the UK, we are currently 10 years behind. Considering it's our second biggest cancer killer ... I think it's unacceptable."
"Given that there's got to be a lot of evaluation and support in place, you could be looking at another 10 years [before a national programme is running] in which time thousands more New Zealanders will die."
Holdaway's group promotes private purchase of faecal-test screening kits for $60, a move that drew a mixed response from the medical community, although there was agreement that people should not be screened without the involvement of a GP.
Health agencies want to take their time to get it right with bowel screening after the Gisborne cervical screening scandal, which led to dozens of women developing cancer and some dying. A ministry paper on bowel screening, obtained under the Official Information Act, reveals this caution: "The Gisborne inquiry committee found poor design and implementation of the original cervical screening programme in the 1990s was a factor likely to have led to the unacceptable under-reporting of cervical smears in the Gisborne region."
One of the key pressure points in the screening "pathway" which has worried officials since a bowel screening programme was first mooted in the 1990s is the variable and often long waiting times for colonoscopy - a chronic problem that would become critical if not fixed before a national programme began.
A ministry audit of DHB endoscopy units - colonoscopy is one kind of endoscopy - makes dismal reading. Dated July, it identified various clinical risks in services that were generally struggling to meet demand and were mostly short-staffed.
In response, four DHBs, including Waitemata, are trialling systems intended to improve training and overall quality.
A survey of public hospitals published in 2007 found more than 800 patients with symptoms suggestive of bowel cancer had been waiting more than six months for colonoscopy. National guidelines recommended they should have waited no more than eight weeks.
"... a significant gap exists between colonoscopy demand and provision," the authors wrote. "Population screening for colorectal cancer would require a significant increase in colonoscopy capacity to ensure waiting times for symptomatic patients do not increase."
Health Minister Tony Ryall says the number of colonoscopies rose by 7 per cent in 2009/2010, an indication that capacity is growing.
Health Workforce NZ chairman Professor Des Gorman says trials are being run of training nurses to do endoscopy, which will be an important way of expanding the workforce if a national screening programme is established.
In the Waitemata pilot it is expected 6 per cent of participants' faecal blood tests will be positive - leading to thousands of extra colonoscopies. The DHB has set 10 weeks as the maximum waiting time from referral to having the procedure. Chief executive Dale Bramley is acutely aware of the need to reduce the DHB's symptomatic colonoscopy waiting list before being swamped with symptom-less patients with positive faecal test results.
He says the DHB plan to deal with this includes shifting some doctors in from other duties, Saturday shifts, temporarily using the screening programme's new endoscopy facility at Waitakere Hospital, hiring extra staff, and contracting 200 procedures to the private sector.
"Waiting times are currently decreasing and it is expected that by December 2011 the waiting list will be reduced to 200 people."
From then, the DHB standard for most symptomatic patients on the elective colonoscopy list will be a maximum wait of either six weeks or, for the most urgent, two weeks. The list will be maintained at about 200 patients.
Last month the waiting list for symptomatic endoscopy stood at 625.
The Government has committed $24 million to the Waitemata pilot and expects a national bowel screening programme for people aged 50 to 74 would cost about $60 million a year, excluding information systems.
For Peter Krijger, colonoscopy is now part of life. He is following advice to have one every three years to check the cancer hasn't returned.
"My message to people about bowel cancer is to know the symptoms and act.
"I hope that people take up the opportunity to participate in the screening programme and get themselves checked."
What it means
* New Zealand's first bowel cancer screening programme will be launched next week in the Waitemata District Health Board area in Auckland.
* Residents aged 50-74 and eligible for state health care will be progressively offered screening under the four-year pilot programme.
* The Government will use the results to decide on a national screening programme, which could affect all 50 to 74-year-olds.
Patients put at risk
Many public hospital endoscopy services are using methods that put patients at unnecessary risk, a Health Ministry audit found.
Dated July, the audit reported on visits to endoscopy units at 18 of the 20 district health boards by two senior ministry officials.
The aim was to increase the quality of services because of the likely great increase in demand for colonoscopy - endoscopy of the large intestine - if New Zealand establishes a national bowel-screening programme.
Arguably one of the most serious faults identified is in the cleaning and sterilising of endoscopes.
"There was no separation of clean and dirty work flows in most units, and incorrect protective wear was used in a number of them."
Some units carry out procedures with an endoscopist and one nurse, without the second nurse required by anaesthetic guidelines. "This exposes patients to an unacceptable level of clinical risk."
Other concerns included:
* An often "confused" management structure;
* Workforce shortages;
* Waiting times that varied from 10 days to more than a year;
* Shortages of equipment.
Health Minister Tony Ryall says four DHBs - Waitemata, Lakes, Wairarapa and Canterbury - are trialling a British system designed to improve training and quality. After three years, the British units "increased the number of patients being seen on time from 16 per cent to 82 per cent".