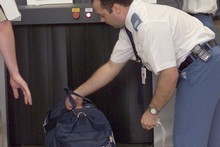 Hundreds of thousands of passengers have come into New Zealand without their bags being scanned, and it's a step in the right direction, according to the Prime Minister.
NZ and Australian passport holders, who are considered low risk, can bypass the x-ray machine as they exit.
The first direct exit path was installed at Auckland International Airport in October last year and since then others have been installed at other international airports around the country.
The change is part of a move away from 100 per cent screening through our borders, which is designed to speed up security processes for travellers between Australia and New Zealand, John Key told TV3 today.
He believed it was "absolutely the right thing to do".
"Rather than screen everybody we now screen those most likely to pose a risk. I would rather have our MAF take a very good look at the bags they think might present a risk," he said.
The system was based on "intelligence and risk profiling" said Key and he believed it was the best option for assessing risk and delivering a better service to passengers.
However, he accepted it was impossible to check every item coming into the country and breaches did happen.
Under the new system staff continued to use a number of other measures including pre-screening to check bags coming into New Zealand, said Key.
The move away from full x-ray services aimed to reduce the wait time from about 28 to 14 minutes for transtasman passengers.
Another step in that direction has been the introduction of SmartGate, allowing electronic passport clearance of passengers from Australia.

- APNZ
By Abby Gillies

Email

Abby