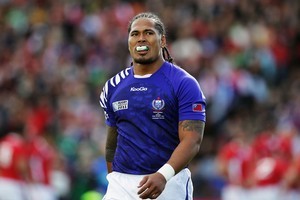 A Samoan company will pay most of a $10,000 fine slapped on the Samoan team by the International Rugby Board because a player wore a mouthguard at the Rugby World Cup which displayed a sponsor's name.
Giant Samoan winger Alesana Tuilagi wore the non-approved shield in his side's 27-7 win over Fiji on Sunday.
Digicel Samoa, a mobile phone provider, pledged $7000 towards the fine yesterday amid a chorus of criticism levelled at the IRB for its punishment of the cash-strapped Samoans.
The $10,000 fine came as England avoided sanctions after they illegally switched the ball for conversion attempts against Romania.
Dr Anthony Lovat, dentist and founder of Opro mouthguards, which supplied Tuilagi's shield, said the fine was "ridiculously harsh".
"Tuilagi has worn that mouth guard for years, he's used to it, comfortable with it."
Dr Lovat said his firm was trying to contact the Samoan Rugby Union to offer to pay the $10,000 fine - not a bad trade given the publicity the IRB had inadvertently given his company.
"We know it's hit the press in the UK already. It may not do us any harm, but at the end of the day we're smiling on one hand, but on the other hand it's so harsh, but that's the big corporate world, isn't it?"
Tuilagi's teammate Eliota Sapolu took to Twitter to slam the decision as "commercialisation overcoming all reason and rationale".
He tweeted: "Rules are not rules. They must be just. [If suffragette] Kate Sheppard accepted the rule that women cannot vote it would still be the case now. Question!"
Samoa team media manager Fatu Tauafiafi said Tuilagi was called before the IRB's match commissioner and he expected team management would meet rugby's ruling body.
Mr Tauafiafi said a Samoan player was fined at the 2007 World Cup for using headgear with unauthorised branding, and players were talked through rules on logos before this year's tournament.
The IRB's terms of participation allow manufacturers' logos to be visible on basic kit such as jerseys, shorts, socks and boots if earlier approval is sought. Items such as Lycra undershorts or mouthguards must be "clean" from branding.
The Weekend Herald understands teams have been fined at previous tournaments because players wore branded mouthguards.
The IRB said the rules were "well understood by the participating teams and are in line with other major sporting events".
Samoa Rugby Union chief executive Peter Schuster said the fine was a lot of money for a mouthguard, "but we must abide with the Rugby World Cup policies".
TV3's Campbell Live ran a sausage sizzle on Ponsonby Rd yesterday to help raise the $10,000 to cover the fine for the Samoans.
With some people buying a sausage for $300 and the Digicel Samoa donation, the $10,000 target was reached before kick-off last night.