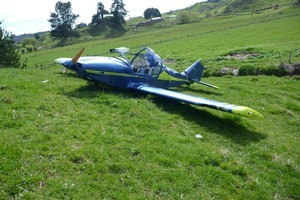 A pilot was carried from his light plane after crashing it into a Bay of Plenty hillside this morning has been described as "extremely lucky" by police.
The pilot, 49-year-old Chris Schadler, is thought to have lost control of his home built plane before it crashed into farmland about 15km south of Whakatane shortly after 10am.
Whakatane Police senior sergeant Bruce Jenkins said the pilot was assisted by a neighbour before walking from the aircraft, which was largely intact after the impact.
He was then flown to Tauranga Hospital, where he is being treated for injuries to his lower back and sternum.
The Civil Aviation Authority is investigating and is expected to remain at the scene throughout the afternoon.
- APNZ