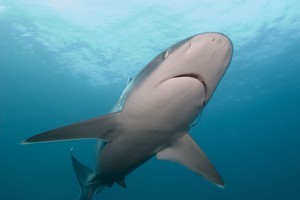 Another summer of sharks is approaching with up to 70 different species expected to cruise along our coasts.
In Australia this week, the Sunday Telegraph reported shark sightings had increased recently as the animals were drawn closer to shore by unusually warm waters. "We've got quite a lot of sharks out there at the moment," said SurfWatch Australia director Michael Brown.
There is no indication yet more sharks are in New Zealand, but experts say anyone seeing sharks are likely to glimpse one of the harmless species seeking sanctuary to give birth or following migratory baitfish.
Auckland Museum marine vertebrate curator Dr Tom Trnski said bronze whalers, in particular, often came close to shore to pup during warm weather.
"We're lucky enough to see the predator occasionally in the water so we should enjoy the opportunity when we can."
Last summer up to 20 sharks were spotted by holidaymakers in shallow waters at Matarangi Beach in Coromandel.
But Trnski said a large boat was the only safe spot from which to watch sharks.
"If your boat is smaller than a shark, I suggest you get to shore as soon as you can."
Department of Conservation marine scientist Clinton Duffy said about 70 species of sharks appeared in New Zealand waters during summer, but only a handful went near the shore.
He said New Zealand was different from Australia. Not only was it warmer there now, but Duffy said large groups of baitfish such as kahawai were more prominent near the Australian coast, another reason sharks were there - looking for food. He said dangerous species, such as great white, tiger and bull sharks, tended to congregate in greater numbers around Australia.
New Zealand had an average of one or two shark bites each summer, Duffy said.
"They mistake a foot or legs thrashing around as something to eat."
Shark sightings are common in Northland, Coromandel and Tauranga.

- Herald on Sunday