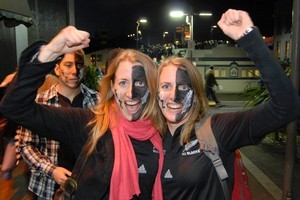 The curse is broken - here we go! The All Blacks beat France 37-17 last night at Eden Park in Auckland in a dream match which dispelled the nightmare Rugby World Cup losses of 1999 and 2007.
It was one more factor in an evening where everything worked as it was meant to.
Three weeks after the Rugby World Cup 2011 began, Auckland finally got its own game sorted. There were no transport delays, and downtown Auckland's Party Central really was party central.
Even the French fans were treated to the best of Kiwi hospitality after a week of recriminations over how badly Australian fans had been treated.
Residents handed sausages with tomato sauce in bread to French supporters before the game and, in nearby Kingsland, others danced in the street to reggae with locals.
At the close of the game All Black captain Richie McCaw received an ovation from the 60,000-strong crowd and his victorious team mates for playing his 100th test match.
To roars of approval, he said: "You play not only for yourself [but] for your team mates and for everyone in this wonderful country."
A silver cap was presented to him by former All Black captain and rugby boss Jock Hobbs, clearly suffering the effects of the chemotherapy treatment he is receiving after being diagnosed with leukemia.
Fans from both sides danced in the street after the match as the Kiwi classic Poi E was piped from the stadium.
Freeman's Bay resident Alistair Sullivan, who attended the 1987 World Cup final, said the All Blacks were on track to win the tournament.
"They were structured, organised and up for it. It was a really good collective effort. It was intense."
Grey Lynn plumber Grant Young, 39, said the atmosphere was "electric".
"I think the spirit in which every Kiwi is getting into the tournament was on show. I was even backing the French in parts, I just wanted to see an even match."
Frenchman Ian Labat, 26, said the All Blacks deserved their win. He said the French "had butter-fingers. The All Blacks looked a step ahead and I think they will go all the way."
French supporter Philippe Gueyraud, 22, from Lille, said he was disappointed but comforted it was a loss in the pool stage of the tournament.
"We want to play against England. We can kick the arse off England."
It was the biggest night yet for the fan trail. An estimated 10,000 took the path from Party Central to Eden Park. The numbers riding the rails to the match fell to 10,700, 500 fewer than last week's game.
At Party Central, security guards directed fans to the new overflow venue on Captain Cook Wharf long before Queens Wharf was filled.
Rugby World Cup 2011 boss Martin Snedden called on New Zealanders to actively discourage rude behaviour towards overseas rugby fans. Snedden said it was vital Kiwis continued to welcome overseas guests, and to tell off those who showed poor manners towards visitors.
"I have to say the overwhelming feeling is that people are looking after all the visitors, including the Aussies."
Snedden cited as an example of welcoming behaviour the actions of Hawke's Bay mechanic Malcolm Reid, who sacrificed his sole Rugby World Cup ticket to help out Welsh rugby fan Henry Goodburn after the tourist's rental vehicle broke down near Napier.
Goodburn missed his match but was hosted by Reid and family so he could watch his team play on television - with a roast dinner on his lap.
"I've had calls and emails from all over the country," said Reid last night just before kick-off. "Just people saying they're proud to be New Zealanders."