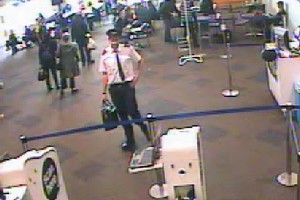 A total of six people now face charges for a television skit in which a man attempted to breach Auckland Airport security last Saturday.
Three more people were today arrested over a prank in which radio host Bryce Casey allegedly dressed up in a fake pilot's uniform attempting to get into a restricted access area.
This morning Counties Manukau police arrested a 27-year-old cameraman, a 40-year-old sound recordist, and a 24-year-old production co-ordinator.
The trio appeared in Manukau District Court this afternoon charged with breaching the Civil Aviation Act by giving false information and attempting to access a secure airport area.
All three looked mildly sheepish in court and were dressed in casual attire of jeans, shorts, t-shirts and collared shirts.
They entered not guilty pleas and were bailed on the grounds they don't enter the Auckland Domestic Airport or the International Airport.
One was granted a dispensation to travel to Singapore for four days.
The trio were granted interim name suppression to let them tell their families.
The men's counsel, Rosemary Thomson, told the court the arrest had been too "sudden'' and they hadn't had a chance to tell their relatives.
Outside the court, the three men declined to explain their actions. One shrugged when asked if they thought the prank was funny.
Their arrests follow the appearance of Benjamin Ross Boyce, 33; Bryce Anthony Casey, 32; and Andrew Logan Robinson, 26, in Manukau District Court yesterday after the trio contacted the police on Sunday.
They faced the same charges and were also bailed to reappear on October 18.
Police said they were not looking for anyone else in relation to the prank.
Casey allegedly attempted to gain access to a restricted area in a rented pilot's uniform at Auckland Airport on Saturday afternoon, and was turned away by security staff.
The stunt resulted in widespread criticism yesterday ranging from the pilots' union to the prime minister.
The maximum penalty for breaching the Civil Aviation Act is 12 months' imprisonment or a fine up to $10,000.

- APNZ