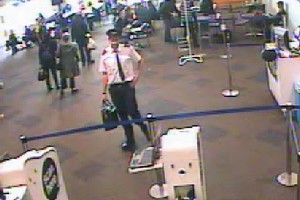 An incident in which a man tried to get into a restricted area of Auckland Airport in a fake pilots' uniform is of serious concern, an aviation security expert says.
The man dressed as a pilot approached staff at the Auckland domestic air terminal on Saturday afternoon to try to get into a restricted airside area.
He was dressed in a white shirt with gold-banded epaulets, blue trousers, and a dark cap with a silver-winged badge.
The man was challenged by staff and left the terminal building in his disguise shortly after 2.30pm.
Airline Pilots' Association aviation security coordinator Paul Lyons said the incident was of serious concern.
If the man had got into the restricted area he would have had access to airside terminal areas, aircraft and boarding passengers.
"We don't know what the motives of this person were, whether they were in the nature of a prank or whether there were more sinister or serious motives," he told Radio New Zealand.
Pilots and other airport staff took security very seriously, he said.
"It's very much viewed as a team approach - everyone's involved in security," he said.
"I would include the public in this as well. We're all part of the security network and if anyone sees anyone anything suspicious they should report it to the authorities."
Mr Lyons said security varied across different sized airports and was "very strong" at Auckland Airport.
The penalties for breaching a security area included prison or a very heavy fine.
"It's of a very serious nature and I'm sure the police would treat it very seriously, as would our pilots," Mr Lyons said.
People could not hire authentic pilots' uniforms at costume shops and the fact the man had a uniform was concerning, he said.
The episode was reminiscent of the film Catch Me if You Can, which was based on the true story of Frank Abagnale Jr, who posed as a Pan Am pilot while on the run from authorities.
Mr Lyons said it was the first time he had heard of such an incident in New Zealand.
"It may have happened in the past but I've been involved in aviation for around 30 years and I'm not aware of a similar incident happening, certainly not at Auckland Airport in recent times."
Superintendent Andy Lovelock said attempted breaches of airport security were taken very seriously.
"The effort to which this individual has gone to access the restricted airside area of the Auckland airport is of a significant concern," he said.
The man, in his late 20s to 30s, was seen driving away from the terminal in a black Hi-Ace with tinted windows.