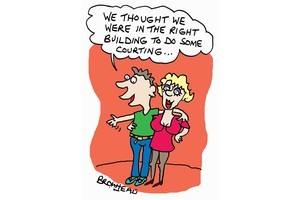 A promiscuous pair have got off with a warning after being sprung having sex in a public interview room at the Waitakere District Court this week.
Word swept swiftly around court staff on Tuesday after a supervisor found a man and woman getting overly friendly in a room easily accessible to the public.
District courts northern regional manager Nicky McKinney said the couple were being sexually intimate but would not confirm they were having sex.
However, a court staff member told the Herald on Sunday that the couple were well past first base.
"They were doing something they shouldn't have been ... fornicating," she said.
McKinney said the amorous duo were not defendants nor witnesses to a court case.
The police were not contacted and no one was charged.
"It was explained to the adults that this was not appropriate behaviour in the courthouse and they were asked to leave.
"Their identities are not known and no complaint has been laid following the incident."