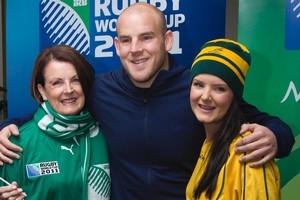 Wallaby hooker Stephen Moore's Irish mother says she will be supporting both the Aussies and the Irish equally in tonight's big match.
But Moore says he wants his mum to back the Aussies 100 per cent.
The bright green Ireland supporters jersey and scarf she wore yesterday left no doubt where Maureen Moore's heart lay.
"We are Irish-Australian. But I'm very proud of our Irish roots," she told the Weekend Herald in a strong Irish accent.
"If I had a shirt half-yellow and half-green, then I would wear that to the game."
The Wallabies will take on Ireland at Eden Park tonight in what is expected to be a tough game.
Mrs Moore said she was looking forward to going to the game, not only to see the Irish play, but of course to support her boy.
"I support any team Stephen is in ... my daughters are big Wallabies fans though," she said, pointing to her daughter Sarah, who was kitted out in a Wallabies supporters jersey.
Asked if she was proud of her son playing for Australia, she broke into a huge smile and said: "Absolutely."
Moore later acknowledged that his family's loyalties were very much split, but he wanted his mum to back the Aussies 100 per cent.
Referring to his mother's green wardrobe earlier in the day, he joked: "I've told her to shed all that by tomorrow night."
Moore said playing for Australia was a privilege, as was going head-to-head with Ireland tonight.
"I'm intensely proud of my Irish heritage, but I am immensely honoured to play for the Wallabies.
"It's pretty special any time I play against Ireland."