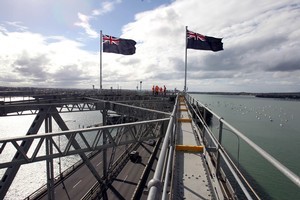 Bungy jumping enthusiast Mike Heard has set a Guinness World Record by hurling himself off the Auckland Harbour Bridge 80 times in a hour.
He first stepped off the AJ Hackett Bungy pod at 3pm today, and in 60 gruelling minutes easily smashed the previous record of 42 bungy jumps in one hour.
The old record for the Most Bungy Jumps in one hour was held by James Field (England) who performed 42 jumps in London last year.
Official verification from Guinness World Records is pending.
Heard has previously made many jumps off the bridge, including a 2008 record for jumping 103 times in 24 hours.
Proceeds from the successful record attempt go to the New Zealand Coastguard charity.

- APNZ