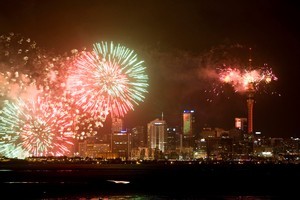 Auckland's Rugby World Cup Fan Zone will be extended to include the Captain Cook Wharf, Rugby World Cup Minister Murray McCully has announced.
McCully has granted urgent approval under the RWC Empowering Act 2010 to extend the Queens Wharf site, following last Friday's chaotic scenes on the city's waterfront.
McCully said the new arrangement was "entirely precautionary".
"No doubt some elements of the media will wish to focus on redundant capacity on the waterfront this weekend. That is intentional. We need to rebuild public confidence starting this weekend," he said.
"However, the following weekend when the All Blacks play France at Eden Park and with an expanded music and entertainment programme at the waterfront I expect that the new facilities will be strongly in demand, with the quarters, semi finals and finals again placing resources under more pressure."
The decision follows yesterday's hearing on the application by the RWC Authority, chaired by Sir Bruce Robertson, and no modifications have been made to the authority's recommendations.
McCully, who earlier this week wrested control of Party Central from the Auckland Council, said he has consulted with the ministers of Economic Development, Transport, Police and Environment, as well as Auckland Mayor Len Brown, before making a decision.
The extended zone is in response to the crush of thousands of people on the waterfront during the cup opening-night celebrations.
Up to 200,000 people swamped downtown Auckland - particularly Quay St - on Friday even though only 12,000 could fit on to Queens Wharf.
The new plan moves the big screens and entertainment from Quay St on to Captain Cook Wharf, which is two-thirds the size of Queens Wharf and able to hold about 10,000 people.
It will be a back-up for Queens Wharf, and hundreds of security guards and hospitality staff will stand on an empty, fenced-off wharf for three days a week during normal patronage - ready in case Queens Wharf fills up.
A planned stage for entertainment will also not be ready, instead, two large screens will show fans what is happening on the Queens Wharf stages, before showing the matches.
This weekend the wharf will also be dry, with the Auckland Council unable to get a liquor licence granted in time.
Last night, one of the screens was being tested and a cluster of portaloos had been moved onto the site.
Criticism from police, fire service
Meanwhile police and fire staff have raised doubts about the suitability of Captain Cook Wharf as part of the Fan Zone, with concerns about inadequate water supplies for firefighting, poor lighting encouraging crime, the likelihood of people falling into the water and doubts about security.
Police said the proposed changes increased the likelihood of someone falling into the water "from possible to probable".
The national alcohol harm reduction co-ordinator for the police, Sergeant Gavin Campbell, told the hearing of several concerns:
* Temporary fencing around Captain Cook Wharf would collapse if 100 people pushed against it.
* The only lighting on the wharf - two floodlights - would create shadowed areas encouraging opportunistic theft and other crime.
* The counting of people entering the wharf had failed on Friday; with two gates it would only get worse.
Mr Campbell's most serious objections were on the issue of security guards. Police had already been forced to cover for the "inadequate" provision of contracted guards on the waterfront, which significantly reduced their resources, he said.
An extra 140 guards were now being sought for trains, and not enough were available to man another wharf.
"The well is dry in respect of the security guards, and would be a concern if (the Party Central organisation) was to simply redistribute what has clearly been shown to be an inadequate resource (on Queens Wharf)."
Mr Campbell also questioned the capacity of Captain Cook Wharf. He said it was two-thirds the size of Queens Wharf, which had coped with only 12,000 on Friday.
Therefore 8000 would be a sensible capacity for Captain Cook Wharf.
Fire Service assistant area commander Steve Lakin suggested consultants be employed to establish how many people could safely be on Captain Cook Wharf.
But the Government's Party Central representative at the hearing, Peter Winder, said Captain Cook had fewer buildings and more open space than Queens Wharf.
A capacity of 14,000 was suggested.
Mr Winder said fencing, lighting and all services on Captain Cook Wharf would be provided to the same requirements as on Queens Wharf, and the security contractor - Red Badge Security - had assured him it could provide enough guards.
The Rugby World Cup Minister, Murray McCully, had asked that Party Central's capacity be increased "to err on the side of caution", Mr Winder said.
So vendors, security and other staff would be on-site from Friday through Sunday in case Queens Wharf filled up.