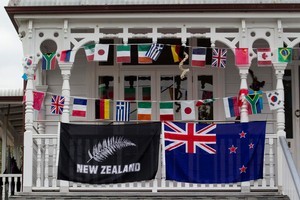 Tucked behind the bright lights of Eden Park is a quiet little street basking in its own glory as the flags of each Rugby World Cup nation hang from windows, trees and power-poles.
The Zone A residents of Tongariro St have each adopted a country and decorated their homes in those nation's colours.
Organiser Roger Geise, aged 56, said his neighbours contributed about $50 each for flags and bunting to hang across the road and on their houses.
"I was surprised most people wanted to come in, only two in the street said no and a couple didn't respond," Geise said.
Almost every resident wanted to adopt the All Blacks and no one wanted to take on the Aussies.
"I suggested we could nail Australia to the tarmac for cars to drive over," Geise said.
"There was some argy-bargy about who had New Zealand so I had to make an executive decision ..."
The Wallabies can thank the street's new arrivals, Tran Zha and his mother Gane Zha, who put up their hands to adopt Australia.
"We moved in recently and they had chosen different countries already and there wasn't much left, to be honest," Tran said.
Geise said some of the residents had changed their negative tunes to events at Eden Park, which have been known to bring disruption to the street.
"A few people have softened their tone towards it, but there will always be the strident few who don't get involved ... I prefer they didn't have an exclusion zone, we don't get foot traffic so we miss out on the buzz of event activity, I'd rather have drunks walking down my street."