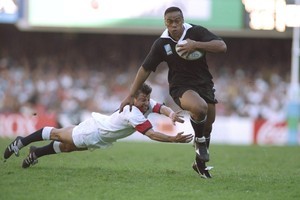 All Black great and global rugby superstar Jonah Lomu is the "mystery sporting legend" who will make an appearance at tonight's opening ceremony for Rugby World Cup 2011.
The Herald understands that Lomu will feature as a mystery guest amid an extravaganza of video projections, dancing, singing and fireworks never seen before in New Zealand.
His role and what he does during the 30-minute ceremony has been a closely guarded secret but is understood to involve him towering over a young rugby fan who scores a try and looks up to see the behemoth standing next to him.
The two shake hands before there's more dancing and singing of the tournament's anthem World in Union.
The ceremony, which also features video footage of each participating nation's leading tryscorers, involves more than 1000 volunteer dancers and 400 singers of 19 nationalities.
It tells the story of New Zealand and its place in the Pacific, and will be broadcast to a worldwide television audience of 50 million.
Lomu, who played 63 tests for the All Blacks scoring 37 tries, could not contain his excitement about the event in a recent interview with the Herald.
"It's fantastic," he said. "It's the biggest event, third behind the Olympic Games and Fifa World Cup and it's held here in New Zealand where we are showcasing the best of rugby, where I believe the best rugby is played."
The winger said his loyalties were with the All Blacks when they play Tonga.
He said New Zealanders "should and will" get behind the All Blacks but he wanted to see support for other teams to make the event a success.
"For the smaller nations just to see people there, getting behind them and supporting them, which New Zealanders will do, will lift their game, will improve the game and they'll want to get better for the next time round."
Lomu said he was taking his two sons and wife Nadine to the ceremony because he believed he would not see the World Cup held in New Zealand again in his lifetime.
"I want a piece of that memory and a bit of history to New Zealand and I'm pretty sure the guys who have arrived from the other nations are already taking photos for their scrapbooks and making sure they've got something to take away."