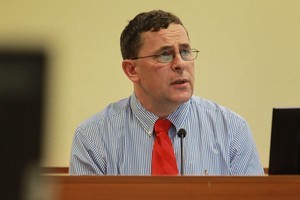 Pike River Coal mine did not have a purpose-built fresh air safety haven operating on the day of the explosion that killed 29 men last year.
The statutory mine manager, Doug White, has told the royal commission into the November 19 disaster at the West Coast underground mine a fresh air base 1500 metres into the mine had been decommissioned several weeks before the explosion.
Two miners struggling for survival, Daniel Rockhouse and Russell Smith, had been advised to go to the fresh air base when they phoned for help from further in the mine.
When they got there, they discovered there was no air and no working phone in the base.
Mr White has told the hearing at Greymouth District Court that he believed the 1500m base still had air and a working phone, but he knew the self-rescue breathing apparatus had been removed.
He agreed that removing the self-rescuers was a premature action when asked by counsel for the Engineering Printing and Manufacturing Union, Nigel Hampton QC.
However, he said he was not made aware every time a phone was moved and there were many reasons the compressed air was not available.
While a new air base had been set up where air entered the mine down a slimline shaft, it was not purpose built, Mr White said.
At the time of the explosion a purpose-built air base was to have been built in a matter of weeks by excavating, kitting it out with airlock doors, tables and using the equipment there in a more organised way, he said.
He agreed with Mr Hampton that the "de facto fresh air base" would be reliant on the mine ventilation system and barometric pressure to ensure air kept coming in.
The hearing continues.
- AAP